Featuring Monster, Master, Omnibus & Colour Collections from Kurt Busiek, Alex Ross, Garth Ennis, Darick Robertson, Tsutomu Nihei, Bryan Lee O' Malley.

Marvels (Monster-Sized) h/c (£67-99, Marvel) by Kurt Busiek & Alex Ross.
To coincide with the release of the all-new MARVELS EPILOGUE (£4-25) which honestly is the most delightful reprise, revisiting the events in UNCANNY X-MEN #98 (see X-MEN EPIC COLLECTION: SECOND GENESIS) surrounding a snow-blown Rockerfeller Plaza just before Christmas from a bystander's point of view, comes this staggering new edition of the original MARVELS 4-parter plus prologue measuring a full 21 x 14 inches to showcase the gloriously lambent painted art by Alex Ross.
I suspect editorial chose this particular cover to draw the eye upwards, so emphasising its height. I took a photo of it against the regular American-comic-sized MARVELS EPILOGUE so you can see the scale for yourselves.
A thoughtful and poignant history of the innocent age of the Marvel Universe which would be any newcomer's perfect introduction to that company's catalogue, this tells the tale of America at large and a photojournalist in particular witnessing the arrival in their midst of gods, aliens, metahumans, Inhumans, mutants, hybrids and a brave young man in a black-ribbed, red and blue suit who was destined to see the love of his life die after being thrown from a bridge by a sociopathic multimillionaire, her neck snapped by the poor, unfortunate suitor's very own web line.
At which point the innocence is over.
Long before Paul Jenkins and Jae Lee's exceptionally touching and eloquent INHUMANS, this was one of the very first comics which Marvel released with an impressive degree of literacy, other than projects published on its Epic label, Jim Starlin's WARLOCK and THE DEATH OF CAPTAIN MARVEL.
In addition, it saw painter Alex Ross's rise to critical acclaim, and justly so. Unlike many painters who've brought their brush to this medium, Alex Ross has a deft, luminous touch which allows your eye to drift across even his most intricate pages as sequential art is supposed to.
Do please check out Ross's work in KINGDOM COME and JUSTICE (that one over Dougie Braithwaite's pencils) – cracking stories, both – and the JUSTICE LEAGUE: THE WORLD'S GREATEST SUPERHEROES collection of short stories about whose content I'm a bit more ambivalent.
Along with ASTRO CITY and SUPERMAN: SECRET IDENTITY this has also been Kurt Busiek's finest hour to date, as he observed the plight of individuals from ground-level, looking upwards into the sky, a perspective Ross was at great pains to duplicate, as the extensive interviews in the back of MARVELS EPILOGUE makes abundantly clear.
It's a beautiful book which manages, extraordinarily, to recapture the absolute, slack-jawed awe one felt as a four-year-old on first beholding a superhero splashed across a comicbook cover, wondering what on earth these colourful creatures were, and where they came from.
Which is precisely what an equally gobsmacked and understandably tremulous public does throughout this surprisingly pensive series…
Meanwhile, yeah, this particular edition is absolutely massive.
SLH
Buy Marvels (Monster-Sized) h/c and read the Page 45 review here
The Boys Omnibus vol 1 (£26-99, Dynamite) by Garth Ennis & Darick Robertson.
Back in print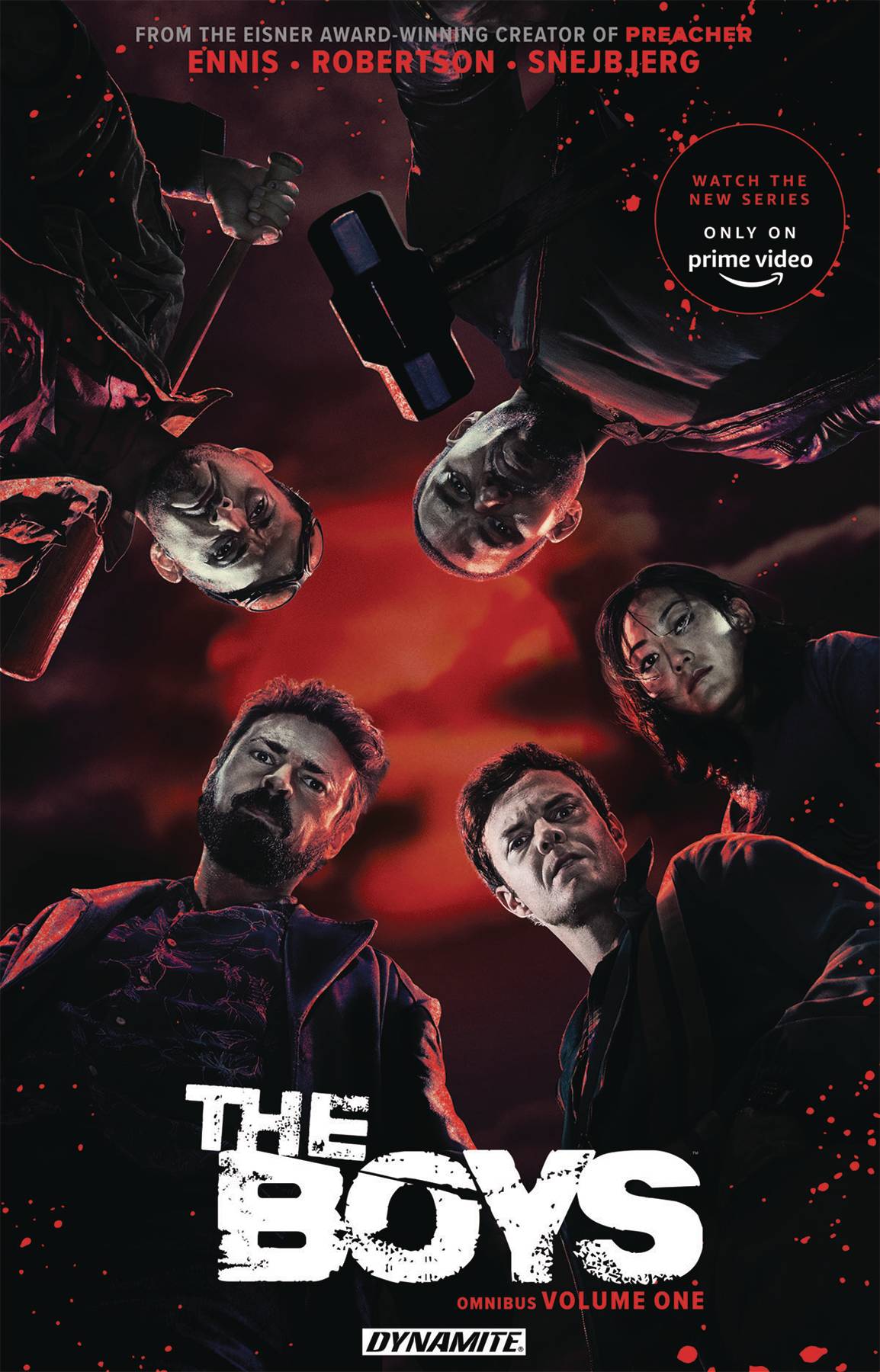 in time for the prime-time TV series…
"Unadulterated carnage"
Yeah, that pretty much sums it up, cheers.
From the writer of PREACHER, PUNISHER MAX and WAR STORIES and the artist on Warren Ellis's TRANSMETROPOLITAN comes THE BOYS, a darkly satirical series of adults-only books from the POV of a Machiavellian British bruiser who is exceedingly angry at everything regarding the nature of above-the-law superheroes, their suffocating male hegemony, and their history of publication along with the genre's real-life, attendant, corporate propaganda.
Writer and comedian Simon Pegg provides the introduction in which he offers the experience that, as an actor, you rarely switch on the TV to find yourself starring in a series you hadn't performed for. Errrmmm… will he, now that this has been commissioned for that very medium? He could probably name his price.
I mention all this because Simon Pegg – or rather a character with his exact likeness – is the star of this particular sequential-art show in which his love-life (or the love of his life) is quite literally torn apart by a couple of squabbling super-freaks in the first few pages.
Great timing, that panel, but I'll leave you to see its exceptional execution for yourselves.
This makes him easy pickings for Billy Butcher, a man with a mission to bring down the high-and-mighty but secretly down-and-dirty super-thugs and super-sluts who enjoy the adulation of millions along with the support of the authorities, yet whose team leaders like The Homelander emotionally and sexually abuse their fresher female and indeed male cohorts.
Together with The Frenchman, Mother's Milk, The Female and Wee Hughie (the naive Pegg-alike), Billy Butcher embarks on his first new mission to covertly film a team of teens in the all-together, doing the unmentionable.
Billy Butcher's not going to expose them, though. Not in the way that they expose themselves. He's going to blackmail them into self-destructing in mass-media public. It's about making these nasty, hypocritical, conceited celebrities with their polished media profiles squirm and turn on each other.
So it's still rather topical, I would have thought.
Little is left to the imagination as both Garth and Ennis trawl through an A-to-Z of what Wertham worried about, and which Marvel and DC have never allowed to be shown in superhero comics. It's little surprise, therefore, that DC – originally slated to publish THE BOYS – dropped this title. The only astonishing thing is that it took them so long.
It's crude, it's lewd, but the lascivious relish is infectious, and you wait to see what happens when The Boys start climbing the ladder to take on the equivalent of the Justice League of America.
Now they won't go down so easily – except on each other.
Collects #1-#15.
SLH
Buy The Boys Omnibus vol 1 and read the Page 45 review here
Knights Of Sidonia vol 1 (Master Edition) (£29-99, Vertical) by Tsutomu Nihei…
"A cluster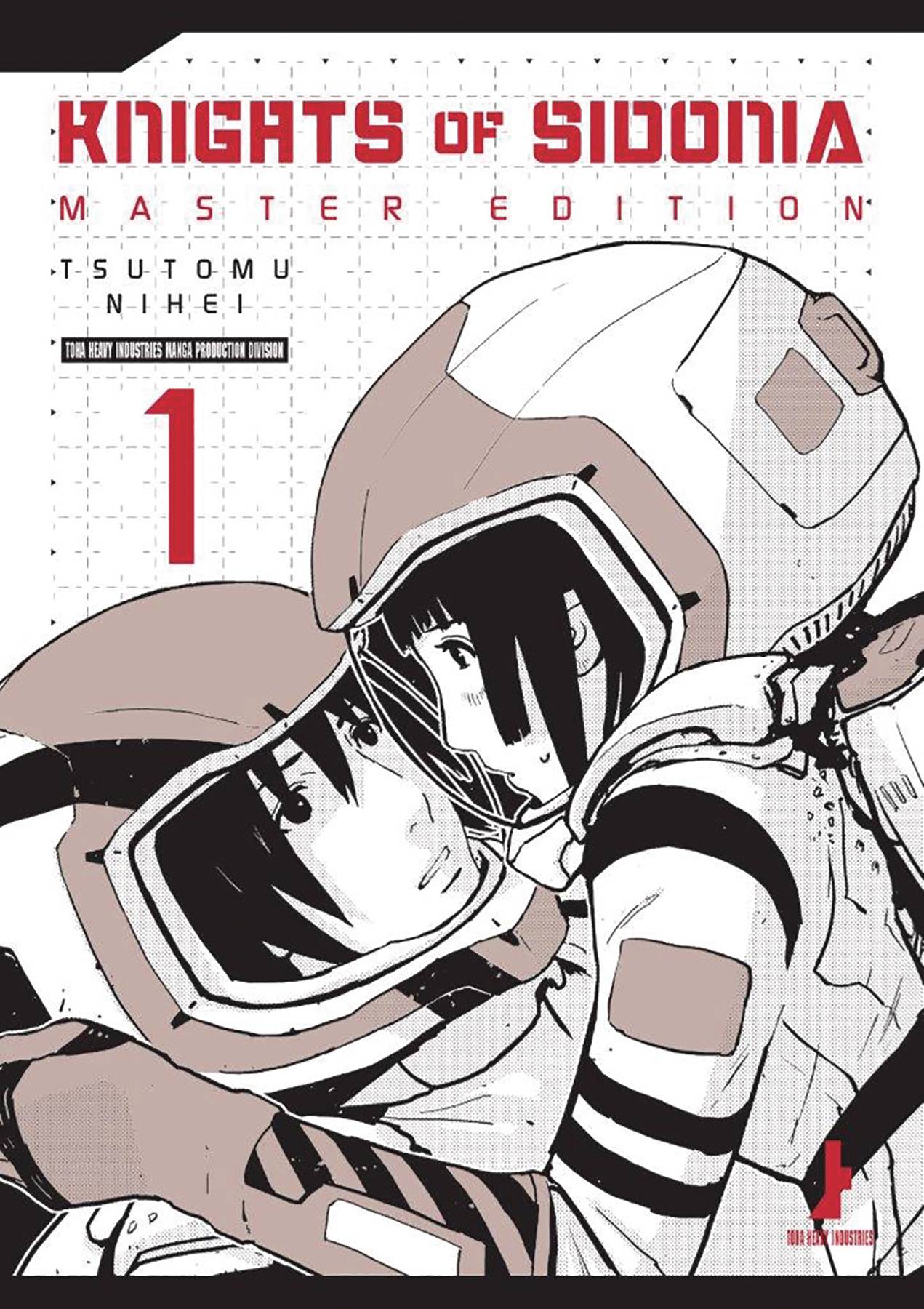 ship has appeared in threat range.
"The Gaunas once again threaten us.
"There is no chance for dialogue.
"There is no chance they will let us by, either.
"The one means of mankind's survival is the stern use of force."
Fans of the frenzied, over-drive, sci-fi-meets-zombies experience, replete with big motorcycles, even bigger guns (and a talking bear) that was BIOMEGA, fall to your knees and rejoice, because here comes another sci-fi / horror mash-up from creator Tsutomu ABARA / APOSIMZ / BLAME! Nihei that's pretty much guaranteed to please you.
Firstly, I have no idea why there is the titular and phonetically inaccurate reference to the 2006 Muse track Knights Of Cydonia, given the Muse reference was to the area on Mars where the so-called face of Mars was observed, but still, perhaps Nihei is a modern prog rock fan? And perhaps the translator was unaware of the reference?!
Sidonia is, though, the name of the lone seed ship carrying the future of humanity, floating through the space between galaxies since the destruction of our solar system by weird alien life forms called Gaunas, who bear more than a passing resemblance to the amorphous evil guys from BIOMEGA just in space.
Enter our hero Nagate, who has spent his entire childhood in the depths of the huge vessel, never seeing another living soul except for his now-deceased relative.
Forced to the upper levels whilst desperately scavenging for food, he encounters an entire civilisation he was previously completely unaware of. A civilisation fighting for its very existence against the vast alien gooey blob things.
Fortunately for everyone all Nagate had to mis-spend his youth on was a simulator of one of the Sidonia's transformer-like fighters. Obviously having logged a fair few hours in there, it's fair to say his giant fighty robot technique is pretty slick. Time for the real thing…
Just great fun, written at a (slightly) slower pace than BIOMEGA, which allows for some character development and intriguing side-plot building.
The art is pretty much identical to BIOMEGA and there are definitely some amusing little nods to that work, including amongst other things, a talking bear.
Collects the first two and a half smaller volumes because why not?!
JR
Buy Knights Of Sidonia vol 1 (Master Edition) and read the Page 45 review here
Scott Pilgrim Colour Collection vol 3 s/c (£26-99, Oni) by Bryan Lee O' Malley.
Contains the final two SCOTT PILGRIM colour hardcovers
Scott Pilgrim vol 5 h/c:
"Hey Ramona…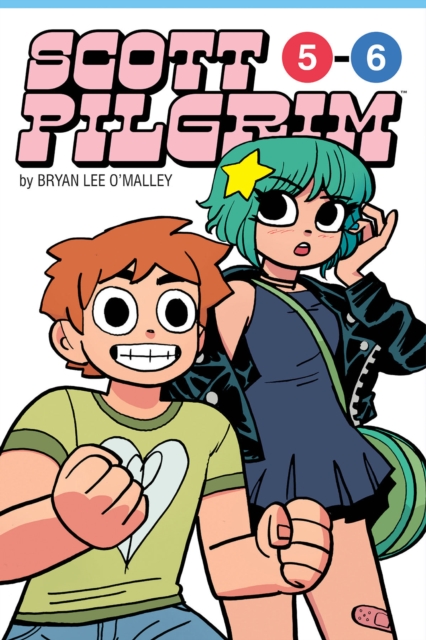 have you ever dated anyone that wasn't evil?"
"Once, this guy Doug. He was kind of a dick, though."
Yes, he's back! World class slacker and most oblivious hero of all time, Scott Pilgrim is in for some double trouble!
This volume kicks off with Scott's birthday and him solemnly vowing to be the best 24-year-old ever, before going straight into evil overdrive with the entrance of Ramona's — [redacted – ed.]
But will his martial skills be enough to save his relationship with Ramona? Are they even destined to be together after she confesses to an aghast Scott she doesn't even like his band Sex Bob-omb?
Is she really the clean-cut heroine she seems to be? Why does her head sometimes start glowing?!! Will Scott ever realise Kim Pine, his oldest and dearest friend, is still in love with him!?!?! Dare they tell Ramona about Scott's innocent sleep-over as he forgets his key for Ramona's apartment yet again?!!!
Will Steven 'The Talent' Stills finally finish mixing the Sex Bob-omb album? Just who is Wallace's mysterious new boyfriend? Can Knives Chau ever get over Scott and stop being so goddamn annoying and clingy? And will Young Neil ever find someone who'll actually just go out with him?
Ahhhh, so many different plot strands tangling, weaving and inter-twining this time around as Bryan Lee O'Malley skilfully mixes things up yet again to mangle Scott's heart-strings as well as our own and leave us wondering exactly what happy ending it is we all want to see.
JR
Scott Pilgrim vol 6 h/c:
From the creator of SECONDS, LOST AT SEA comes the blistering finale!
Flashbacks can come in the form of (highly unreliable!) Memory Cam stills and I think O'Malley invented the lobbed-in labels, the character summary or status boxes which so many other writers have emulated since:
"Julie P (the original and best)"
"Sandra (not the original)"
"Monique (not the best)"
Scott is in love with Ramona and he's defeated six of her seven evil exes in combat – thereby turning them into a shower of shiny gold coins – with only Gideon to go.
But for the moment Ramona's gone missing and it's left him in a zombie fugue state, dribbling away on a handheld video game.
Now it's time for Scott's own exes to sort the silly boy out in time for Scott, Gideon Graves, Envy Adams and Romona Flowers to have a final showdown while gay ex-flatmate Wallace sits boozed up and rolling his eyes sardonically on the sidelines. There may be casualties: Wallace's tongue is very sharp.
As for the audience, where would they be without their mobile phones?
"Is that chick a dude?"
"I'm googling her as we speak."
Fight!
"Is that chick dead?"
"I'm updating her Wikipedia page as we speak."
Will Scott win through?
He's almost learned how to tie his own shoelaces…
Plus, he's finally levelled up, earning the Power Of Love which comes with a flaming sword: +5 for slashiness.
That may help.
SLH
Buy Scott Pilgrim Colour Collection vol 3 s/c and read the Page 45 review here
Arrived, Online & Ready To Buy!
New reviews to follow, but if they're new formats of previous books, reviews may already be up; others will retain their Diamond previews information we receive displayed as 'Publisher Blurb'.
Ophiuchus s/c
(£14-99, Image) by Alexis Leriger De La Plante, Natasha Tara Petrovic
The Cleaner: Man Of Destiny #1 (£2-99) by Fraser Geesin
The Cleaner: Man Of Destiny #2 (£2-99) by Fraser Geesin
The Cleaner: Man Of Destiny #3 (£2-99) by Fraser Geesin
The Cleaner: Man Of Destiny #4 (£2-99) by Fraser Geesin
Debian Perl Digital Detective Book 1: Memory Thief (£11-99, Lion Forge) by Melanie Hillario, Lauren Davis & Kathryn Longua
Flat Filters (£6-00) by Chino Moya & Tal Brosh
Grimoire Noir s/c (£13-99, FirstSecond) by Vera Greentea & Yana Bogatch
Kevin's Great Escape: A Roly-Poly Flying Pony Adventure h/c (£8-99, Oxford Press) by Philip Reeve & Sarah McIntyre
The Legend of Kevin: A Roly-Poly Flying Pony Adventure s/c (£6-99, Oxford Press) by Philip Reeve & Sarah McIntyre
The Night h/c
(£21-99, Titan) by Philippe Druillet
No Ivy League s/c (£13-99, Lion Forge) by Hazel Reed Newlevant
Rust Belt s/c (£16-99, Secret Acres) by Sean Knickerbocker
Science Tales s/c (£16-99, Myriad) by Darryl Cunningham
Snow, Glass, Apples h/c (£14-99, Headline) by Neil Gaiman & Colleen Doran
Star Wars vol 11: Scourging Of Shu-Torun (£15-99, Marvel) by Kieron Gillen & Andrea Broccardo, Angel Unzueta
Stay h/c (£17-99, Lion Forge) by Lewis Trondheim & Hubert Chevillard
Vivisectionary: A Convocation Of Biological Art h/c (£21-99, Fantagraphics) by Kate Lacour
Fantastic Four: Epic Collection vol 4 – The Mystery Of The Black Panther (£35-99, Marvel) by Stan Lee & Jack Kirby
My Hero Academia Smash!! vol 1 (£6-99, Viz) by Hirofumi Neda
My Hero Academia vol 20 (£6-99, Viz) by Kohei Horikoshi
One Piece vol 91 (£6-99, Viz) by Eiichiro Oda
One-Punch Man vol 17 (£6-99, Viz) by One & Yusuke Murata