Featuring Jiro Taniguchi, Ana Galvan, Tommi Musturi, Bryan Lee O' Malley.
Sky Hawk s/c (£18-99, Fanfare Ponent Mon) by Jiro Taniguchi…
"When I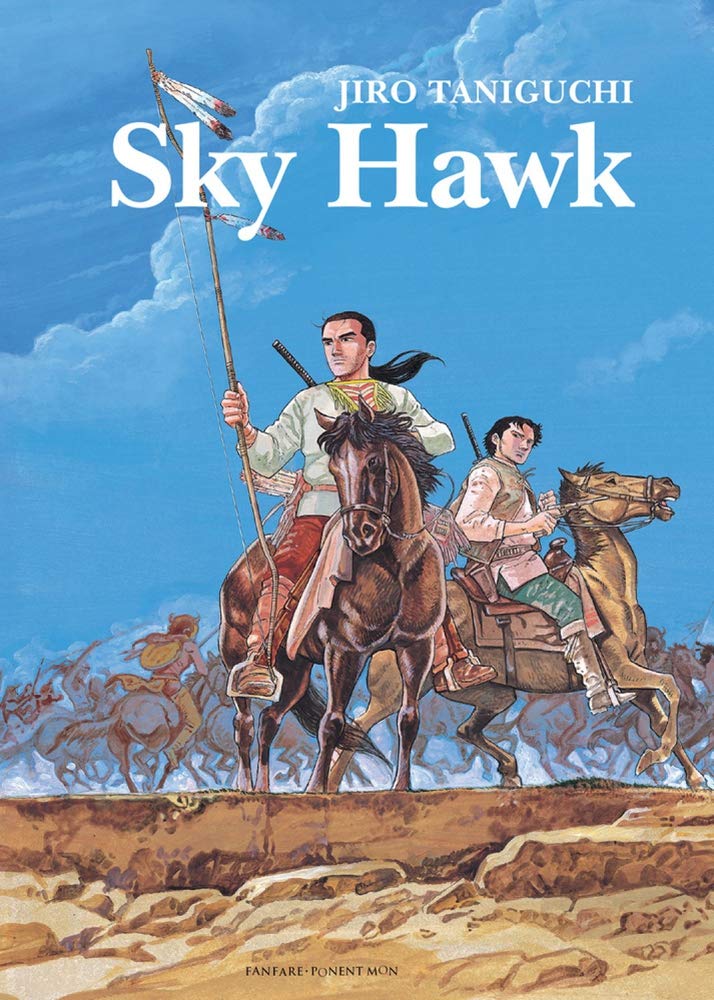 was thirteen… I heard the call of Wakan Tanka, the Great Spirit.
"For three days and three nights, with no sleep or food, I prayed on Paha Sapa, the sacred Black Hills.
"Through deep meditation I communed with a holy power… and was able to have a divine vision.
"It was a message which showed me the path which was to lead my life.
"A vision of the future.
"In my dream I saw a figure which was half man, half horse.
"The creature approached and spoke to me.
"Listen well. You must not paint your face when you enter into battle.
"And, at the end of the battle, you must not take any war trophies from the defeated.
"When you follow this path… enemy arrows and bullets… will only graze you.
"When you lead Oglala warriors into battle, no storm will defeat you.
"And then, in the distant sky where the spirit departed… I saw a pair of shooting stars.
"I could never understand… what that meant for all these years.
"But now, at long last… I am able to understand them.
"Hiko. Manzo. They were you two."
Jiro SUMMIT OF THE GODS / A DISTANT NEIGHBOURHOOD / A ZOO IN WINTER / FURARI / GUARDIANS OF THE LOUVRE Taniguichi had wanted to draw a Western for over twenty years, but seemingly it was felt by publishers that there would be little interest from his domestic audience. Until he hit on the idea of incorporating Japanese central characters. Having discovered the first Japanese migrants to the US included some of the formerly powerful Aizu clan he excitedly began to formulate his story. Here's the Edict from the publisher to educate us further…
"Defeated samurai Hikosaburo and Manzo are exiled from Japan during the Boshin War in 1868 as the new Meiji government took hold of power in the country. They travel to North America and settle in the mountains of Crow territory.
One day Hikosaburo encounters a young native woman who has just given birth hidden in the scrub. Called Running Deer, she tells of how she escaped from two white traders who had 'bought' her, and they soon come looking for their possession.
Taniguchi's well-researched detail and meticulous artwork reveal an accurate portrayal of the 'Indian Wars' of the period, including the infamous Little Big Horn encounter, and present a fascinating view of the daily lives and relationships of the Oglalas, and how the code of honour compares to that of the Samurai."
It makes such perfect sense, I'm slightly surprised no one had thought of this particular idea before. Though you could argue it is a riff on the 1988 novella Dances With Wolves which spawned the hit film about an American soldier who goes full Native.
As you might expect, Taniguichi executes this story, both in terms of plot and artistically, with the precision of a swooshing katana cleanly removing an opponent's head from atop their shoulders. Our two rōnin find themselves adrift both culturally and spiritually in this strange new land until their deeply held Bushidō moral code changes the course of their lives forever during a chance encounter. Taken in by the Oglala tribe and finding much in common with their new hosts, Hiko and Manzo are eventually reborn as the warriors Winds Wolf and Sky Hawk.
Unfortunately for them, the American army forces led by one cocky George Armstrong Custer, ostensibly protecting the ever-advancing railroad workforce teams, are about to completely shatter their new found sense of peace.
Before too long, it begins to dawn on our displaced duo that perhaps they have ended up in another fight which they can't possibly win…
"Many warriors are dead. But… we still can't drive the whites out of the Black Hills.
"From time to time… I no longer understand just what it is I'm fighting against.
"Actually… I think their numbers are increasing.
"It might be that it's us that are being driven into a corner.
"I can no longer clearly see the shape of the enemy we're meant to constantly be striking at.
"Maybe because it's just too massive?
"I can't help but feel like we're going to be swept up in a maelstrom of black clouds.
"Right now… it's like it was back in the past.
"It feels like the battle of Aizu in the Boshin Civil War…
"When we were forced into a siege… and brought to bay."
…
"Are you saying this will be a losing battle too?"
…
"That… I don't know. But… no more running away."
"Of course. I'm resolved to that. My bones will be buried here as an Oglala warrior."
Near note perfect writing as always from Taniguichi, your heart will bleed for the repeated injustices dispensed to the indigenous population in the name of 'progress'. Still, despite the inevitable conclusion, he demonstrates their stoic resolute heroism and that of Hiko and Manzo as their comrades-in-arms, in the face of the increasingly insurmountable odds. As a way of life at one with nature and practised for generations was summarily destroyed by the hegemonising newcomers with barely an afterthought.
Still, Custer eventually got what he deserved and the Battle of The Little Bighorn as depicted here will have you practically swinging every tomahawk and katana alongside the real good guys as it gradually begins to dawn upon Custer that his enormous ego might just have got the better of him.
Indeed, his deep-seated arrogance in underestimating the brave warriors deliciously turned out to be the very cause of his not-so-sad demise. It was of course to no avail in the long run, but I'm pretty sure it felt rather good to those involved massacring him and every last man in his command at the time of his fabled last stand. I enjoyed reading this obviously fictionalised take on it immensely too!
JR
Buy Sky Hawk and read the Page 45 review here
Press Enter To Continue h/c (£17-99, Fantagraphics) by Ana Galvan…
"I think it's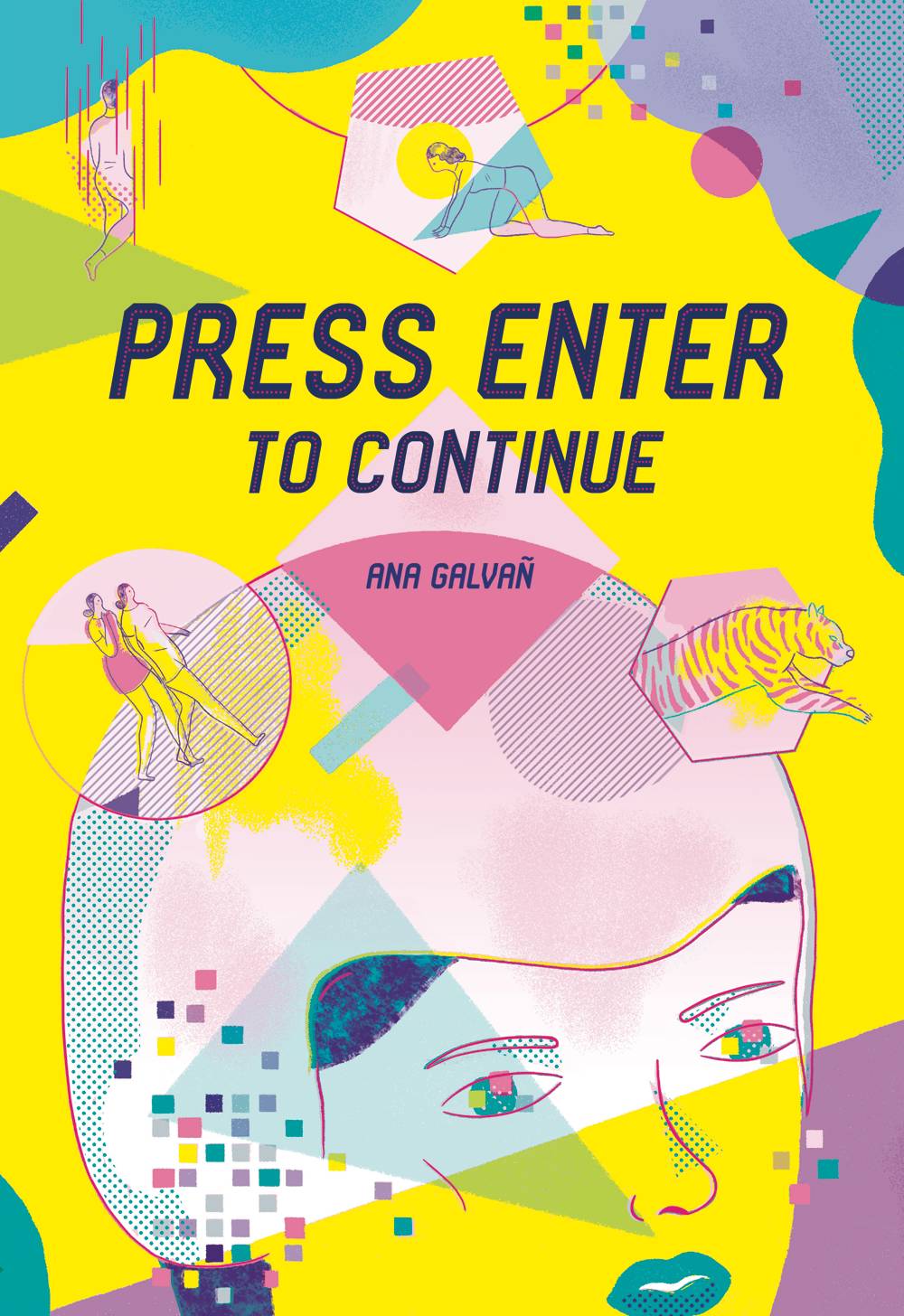 an organisation devoted to planting images in human minds.
"They create distinct masters and project into individuals the image that best fits their memories and obsessions.
"Through a visually transmitted computer virus, based on brain-sensitive algorithms, they continue to insert these made-up memories into the minds of certain people."
"Well, why are they doing this? Why me?"
"Their viruses only manage to alter the minds of people with deterioration in the left hippocampus, which is where memory and delusion meet. This deterioration is usually caused by an injury or a traumatic experience.
"With this they want to make them go crazy and commit suicide."
"What?"
"My theory is that they want us to disappear a third of the planet's population without us noticing. No traces or suspicions.
"For the overpopulation problem, you know…?
"And the most incredible part? The government might be behind everything…"
"But that's madness."
Is it though really…? I mean, if the planet was in serious danger of being overpopulated, I am pretty sure certain governments *might* have some crackpot scheme for dealing with it… On that note, here is the publisher to present their theory as to why it is perfectly plausible to believe Ana Galvan's theory that the powers that be are out to off a third of us. Though as long that third doesn't include any discerning comics readers we should be okay…
"Like a candy-coloured Black Mirror episode, Spanish cartoonist Ana Galvan's English language debut utilizes florescent colours to create a series of short stories that intertwine and explore the dehumanizing effects of contemporary society.
Galvan's characters navigate a world where government departments brutalize the people, information is mined like gold and suicide is a tool to manage overpopulation. Galvan's future is a logical extension of the present, where the malice of large corporations manifests itself in everyday ways."
I think the Black Mirror analogy is spot on actually as Galvan just gently stretches the bounds of believability with a kaleidoscopic finger probe to the brain of the reader. And I do mean gently. For this is subtle psychic sinkhole suck-you-in surreal which lures you down the conspiracy theory rabbit hole before you realise what's happening.
Artistically this is like a fine blend of Roman VANISHING ACT Muradov, Oliver PARALLEL LIVES Schrauwen and George GHOSTS, ETC. Wylesol. The strict geometry, absence of character facial features and the glorious glowing colours and textures make a very strong impression upon the synapses. Almost as though Galvan is trying to brainwash us readers with her imagery…
JR
Buy Press Enter To Continue h/c and read the Page 45 review here
The Anthology Of Mind (£22-99, Fantagraphics) by Tommi Musturi…
"The blood
of Christ is dripping through my ears."
"Sit on my face and tell me that you love me."
…
"Chess players' expanded brains are working at top speed."
Haha, the two pages of 'Italo Sports' two panel gag strips had me spluttering my coffee out. Before we go any further, here's the publisher's explanation for this bulging bag of mad from one of the most mental minds working in comics today…
"This anthology of short stories looks like the work of many cartoonists but is actually that of Finnish cartoonist Tommi Musturi. The Anthology of Mind is a tour de force of stylistic exploration and a window into the brain of one of the most creatively fearless cartoonists working today.
'Style is a form of fear – fear of change, fear of loss, and fear of being different,' according to the author.
In The Anthology of Mind, Musturi confronts this fear head-on with one of the most vital and visually stunning collections of short comics in recent memory."
I first came across Tommi Musturi thanks to John Porcellino, who was stocking one of the component parts of what would go on to be collected as the superb THE BOOK OF HOPE. I loved his dry wit, absurdist humour, and indeed his artistic style. So much so, then when he subsequently released SIMPLY SAMUEL, I was a little nonplussed by how different it was, both in art and storytelling terms. I guess I had wanted, and expected, more of the same.
So this collection of material spectacularly highlights I genuinely didn't have a clue just how diverse Tommi's output is. His quote above clearly demonstrates the reasoning behind why in 38 stories over nearly 120 pages there is barely a single concrete repetition of artistic style. Yes, there are some variations on a theme artistically, but aside from Bryan Talbot, I am hard pushed to think of such a comprehensively chameleonic creator.
In terms of storytelling, Tommi clearly has a penchant for the surreal and the absurd and definitely excels in combining the two. I wouldn't necessarily clarify a lot of this material as an easy read but if you are a fan of the experimental, with heavy emphasis on the mental, I think you will find this anthology highly amusing and wryly entertaining.
JR
Buy The Anthology Of Mind and read the Page 45 review here
Scott Pilgrim Colour Collection vol 2 s/c (£26-99, Oni) by Bryan Lee O' Malley.
Scott Pilgrim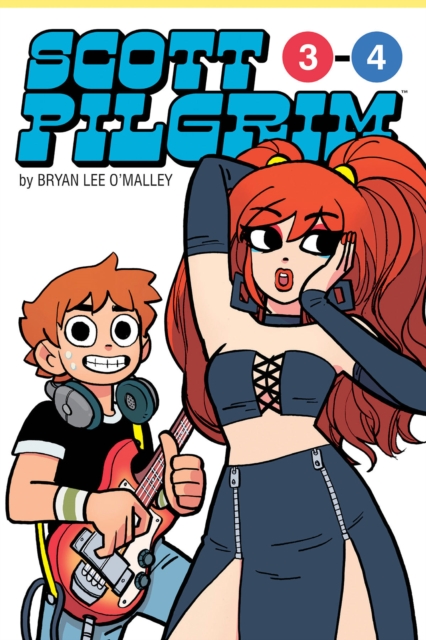 lives with his gay housemate, Wallace, for whom dry, sly mockery is a default setting.
Also: taking his pants off.
"Why are your pants off?! Stop taking your pants off all the time!!"
"It's hot! Also? I'm hot, so enjoy it while you can."
"Mumble, mumble… scarred for life…"
British readers: 'pants' means something different in North America.
SCOTT PILGRIM was the coolest comic on Earth since its very first venture, and if you've never tried it, then you need Scott Pilgrim in your life.
There are no exceptions. This means that you're not one of them.
They don't exist; you do!
So that'll be £26-99, please.
Scott is clueless, unemployed and potentially unemployable. For one, his girlfriend's evil exes are constantly threatening to do Nintendo-style battle with him which can be pretty disruptive to most work schedules.
Although he's dated Ramona for three books already, he's yet to use the "L" word on her.
Here's his trouser-less room-mate Wallace again, asking if he's used it:
"The L-word? You mean… lesbian?"
"Uh… no. The other L-word."
"…?"
"Okay, uh, it's "love". I wasn't trying to trick you or anything."
"What? Have I said it? To her? Sort of. Almost. No. Is it important?"
"I don't know, guy, but your Mom says it to me all the time."
Wallace takes a big, long slurp from his drink.
These books have a logic all of their own, for when I say Scott has to battle Ramona's evil exes in between band practices, he does: using drinks for Level-Ups, gaining Experience Points from work and – if Scott manages to get it together in time – even a flaming sword when he learns The Power Of Love. He's going to need it as well, as the ominous Gideon sub-plot grows thicker…
O'Malley hasn't even begun to run out of ideas: Scott's head poking out from the zip of a small, subspace handbag? Genius! The best book yet, with a joyous and inventive cartooning that gets slicker and slicker.
Even if Scott doesn't.
"Where's Julie tonight?"
"I dunno. She hates me. Where's Ramona?"
"She's at home tonight and she likes me very much."
"Have you said the L-word yet?"
"Why is everyone obsessed with lesbians?!"
Contains SCOTT PILGRIM colour hardcovers 3 & 4.
SLH
Buy Scott Pilgrim Colour Collection vol 2 s/c and read the Page 45 review here
Arrived, Online & Ready To Buy!
New reviews to follow, but if they're new formats of previous books, reviews may already be up; others will retain their Diamond previews information we receive displayed as 'Publisher Blurb'.
Fence vol 3 (£10-99, Boom!)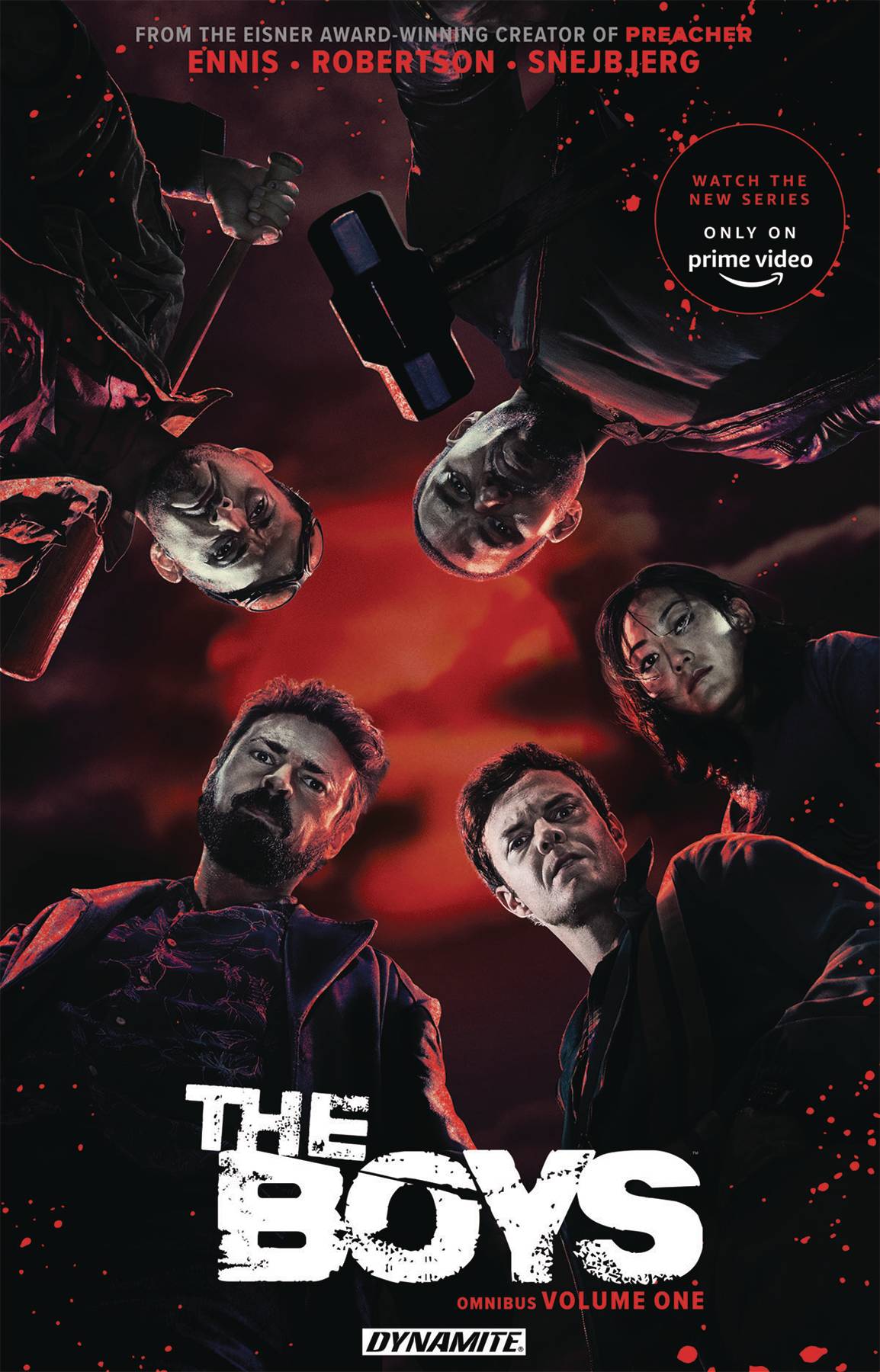 by C.S. Pacat & Johanna the Mad
H.P. Lovecraft's The Hound And Other Stories (£10-99, Dark Horse) by Gou Tanabe
Lightstep s/c (£17-99, Dark Horse) by Mirko Topalski & Milos Slavkovic
The Boys Omnibus vol 1 (£26-99, Dynamite) by Garth Ennis & Darick Robertson
The Boys Omnibus vol 2 (£26-99, Dynamite) by Garth Ennis & Darick Robertson, John Higgins
The Boys Omnibus vol 3 (£26-99, Dynamite) by Garth Ennis & Darick Robertson
Batman / Teenage Mutant Ninja Turtles II s/c (£14-99, DC) by James Tynion IV, Ryan Ferrier & Freddie Williams II
Amazing Spider-Man vol 4: Hunted s/c (£35-99, Marvel) by Nick Spencer & Ryan Ottley, various
Guardians Of The Galaxy vol 1: The Final Gauntlet s/c (£15-99, Marvel) by Donny Cates & Geoff Shaw
The War Of The Realms s/c (£26-99, Marvel) by Jason Aaron & Russell Dauterman
Attack On Titan vol 28 (£6-99, Viz) by Hajime Isayama
Knights Of Sidonia vol 1 (Master Edition) (£29-99, Vertical) by Tsutomu Nihei
Vampire Knight: Memories vol 3 (£6-99, Viz) by Matsuri Hino