Featuring Vera Greentea, Yana Bogatch, Matz, Jean-Marc Rochette, Michael DeForge, Warren Ellis, Darick Robertson, Greg Rucka, Michael Lark and more…
Grimoire Noir s/c (£13-99, FirstSecond) by Vera Greentea & Yana Bogatch~
"You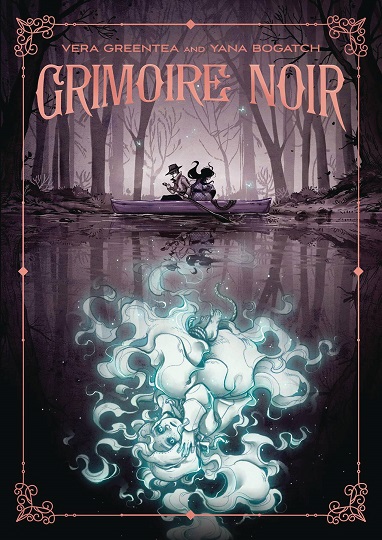 said I could trust you."
"No, I said I would help you."
Blackwell is a sleepy town that very much keeps itself to itself. So much so, that there is an enchantment surrounding the perimeter keeping women born there from ever leaving. Why? Because every woman born in Blackwell has been kissed with magick, and this is a secret. Nothing in Blackwell is all that it seems, and that is something that our young protagonist, Bucky Orson, is about to discover.
Here is what the publisher has to say about him…
"Bucky Orson is a bit gloomy, but who isn't at fifteen? His best friend left him to hang out with way cooler friends, his cop dad is always in his business, and he lives in Blackwell, a town where all the girls are witches.
But when his little sister is kidnapped because of her extraordinary power, Bucky has to get out of his own head and go on a strange journey to investigate the small town that gives him so much grief. And in the process he uncovers the town's painful history and a conspiracy that will change it forever.
Beautiful, spooky, and utterly enchanting, Grimoire Noir is a magical coming-of-age story of overcoming your limits to protect those dear to you"
Vera (NENETL OF THE FORGOTTEN SPIRITS) Greentea is back with her own uniquely personal flavour of gothic fantasy, this time in the form of a mystery which will keep you intrigued from cover to cover. Curiously captivating and with so many twists your head will be spinning like a dervishes' whirl, this isn't your everyday, run-of-the-mill whodunit.
There are so many intricately woven layers in this elaborate fantasy that you'll be hooked from the very first page, but done with such dexterity that at no point do all these different threads seem overwhelming. A true storyteller, Greentea has crafted a story with real depth, but with a thoroughly entertaining lightness.
Complementing Greentea's expertly written mystery is Yana Bogatch, who's elegant and fluid artwork is an absolute dream. The character design is spot on, and often with a familiar nod, such as Bucky's wide-brimmed fedora and belted overcoat as a pastiche of the noir genre, or Cham's long black hair and wrap around scarf as if in slight tribute to Adventure Time's Marceline the Vampire Queen as she floats just a couple feet in the air.
But where I think Bogatch truly shines is with her colour work. In sepia tones, the town is blanketed with a warm, golden autumnal hue, with the distinctive, comforting lighting of about 4pm on a sunny late October evening.
That is, except, for Bucky's house, where his mother's understandable distress at her missing child causes it to literally rain, so the pages are drenched with an inky deluge and a somber softness, which slowly envelopes the rest of the town; that golden hue relegated to memories.
Hauntingly melancholic yet passionately driven, GRIMOIRE NOIR is bringing mid-century noir to a new generation. A cleverly woven intrigue, it is a story to be devoured with artwork to be savoured.
JP
Buy Grimoire Noir and read the Page 45 review here
Snowpiercer – The Prequel Part 1: Extinction h/c (£16-99, Titan) by Matz & Jean-Marc Rochette…
"We are
at the dawn of accomplishing great things."
"To save the planet from humankind."
"To save what deserves to be saved."
"How to you plan to save those who aren't directly responsible for the world's disasters?"
…
"We don't. No, we must go further. Much, much further.
"For too long, humankind have behaved as though they have the right to do what they want to Earth.
"Her other occupants, animals and plantlife, are at humanity's service, or rather at their mercy.
"All humankind are complicit.
"They are guilty.
"And, as such, they must be condemned."
…
"How?"
How indeed?! I should probably explain that is a direct action ecological activists group called Wrath getting a lecture on taking their tactics to the next level from the fairly clearly named Apocalypsters.
Now… I wonder what they could possibly want…?
I nearly didn't read this first volume of the prequel to the bleakly brilliant three part post-apocalyptic choo-choo carryon that was SNOWPIERCER VOL 1: THE ESCAPE / SNOWPIERCER VOL 2: THE EXPLORERS / SNOWPIERCER VOL 3: MUM, ARE WE THERE YET?, I mean, SNOWPIERCER VOL 3: TERMINUS. I guess I just felt that the story was completed for me, and I really do get frustrated with prequels sometimes, because inevitably, we readers know exactly where the story has to go to get to the starting point.
But I punched my ticket to ride and boy am I glad I did because this is a runaway journey to destination disaster all in its own right.
Yes, we will see the construction of the Noah's Ark-like Snowpiercer train and its philanthropist multibillionaire creator Mr Zheng who had already foreseen the collapse of civilisation through ecological disaster.
But really, this story is all about how the timetable for departure suddenly gets brought forward thanks to the deluded doomsday-inducing dedication of a few (needing to be) committed zealots.
Series artist Jean-Marc Rochette returns with his fourth different writer, Matz. That's a deliberate conceit by the way, not Rochette being difficult to work with. Actually, the fact it was penned by Matz (responsible for the utterly mesmerising confessions and adventures of a hitman with a conscience, of sorts, that is THE COMPLETE KILLER) is the reason I opened this up. I then kept reading because Rochette's use of an altogether less bleak colour palette than the understandably wintery blue and black he deployed for the original trilogy gripped me immediately.
Thus, this is definitely its own story, which whilst it will appeal to fans of the previous permafrost perambulation trilogy, will also have much cachet with fans of the likes of Bryan Wood's THE MASSIVE and other eco-disaster deterrent diatribes.
Interestingly I note there is a TV show sequel to the film (loosely based on the first book) planned for next year. No idea whether that will incorporate material from books two and three, but hopefully it will pinch some of the ideas from this work and the presumably other one or two volumes to come for back story.
All aboard!
JR
Buy Snowpiercer – The Prequel Part 1: Extinction h/c and read the Page 45 review here
Stunt (£13-99, Koyama Press) by Michael DeForge…
"I worked as a stunt man. I kept fit.
"I'd been on the job for a movie starring Jo Rear.
"I was his stunt double.
"The fantasy was that one day I'd die in an accident. That'd be ideal. No one could blame me.
"I couldn't set something like that up myself, of course.
"All previous attempts to take matter into my own hands had been abject failures.
"I had simply continued on with my life, remaining "open" to accidents.
"Perhaps I'd lose my footing while scaling a skyscraper for the film's opening sequence.
"They'd acknowledge my death with a little note in the credits."
Surprisingly coherent chequebook shaped identity insanity from the mirthful master of the abstract.
Here is the publisher with a script read-through to provide a plot synopsis…
"A stunt double is hired by an actor to serve as his doppelgänger in order to sabotage his career. Seeing your double is often viewed as an ill omen, a portent of bad luck, and a harbinger of death. Hiring a professional double, an actor spurs on his own demise as he and his double explore the depths of degradation and self-destruction."
The unknown stuntman (cue Lee Majors earworm – you're welcome!) assumes the role of the star's life with aplomb, getting into the character of the fabulously named Jo Rear to such a degree that he rapidly become indistinguishable from the man himself, which is merely the first part of Jo's mysterious master plan…
Soon, Colt, let's call him Colt, is standing in during talkshow interviews, red carpet appearances and even intimate dinners with girlfriends, all with a view to wrecking Jo's hitherto carefully curated image.
Once that goal is finally achieved, after an initial pique of further rubber-necking public interest in the car-crash course Jo suddenly appears to be taking with his life, events start to get even stranger…
Which, of course, is all perfectly normal for a Michael DeForge story! With an ever burgeoning body of bizarre material building up fast behind him: A BODY BENEATH / A WESTERN WORLD / ANT COLONY / BIG KIDS / BRAT / DRESSING / FIRST YEAR HEALTHY / LEAVING RICHARD'S VALLEY / LOSE / STICKS ANGELICA, FOLK HERO / VERY CASUAL he shows no signs of letting up on his one-man smorgasbord of surreal.
Good.
JR
Buy Stunt and read the Page 45 review here
Transmetropolitan Book 2 s/c (£24-99, Vertigo) by Warren Ellis & Darick Robertson
DC has
recently been repackaging its slimmer Vertigo volumes into heftier editions, and this combines the third and fourth – YEAR OF THE BASTARD and NEW SCUM – for little more money than those single editions. It also includes the one-shot TRANSMETROPOLITAN: I HATE IT HERE.
Year Of The Bastard
"You want to know about voting. I'm here to tell you about voting.
"Imagine you're locked in a huge underground nightclub filled with sinners, whores, freaks and unnameable things that rape pit bulls for fun. And you ain't allowed out until you all vote on what you're going to do tonight. You'd like to put your feet up and watch "Republican Party Reservation." They like to have sex with normal people using knives, guns, and brand-new sexual organs that you did not know existed. So you vote for television, and everyone else, as far as your eye can see, votes to fuck you with switchblades.
"That's voting. You're welcome."
Very helpful, Spider. Thank you.
Spider Jerusalem has a second unwilling assistant foisted upon him by his editor. She's called Yelena, but don't expect him to remember that. Worse still his editor is demanding that Jerusalem sinks himself back into the quagmire of politics for the opposition party's Presidential nominations. That will require an awful lot of drugs.
First up is Senator Gary Callahan, sitting there with his rictus grin behind both a political director and a political consultant who squabble. It's Tony Blair, and he's a fake.
But the alternative is far worse: a racist fear-monger whose rallies sound like Nuremberg. What's an uncompromising campaigning journalist to do? Manipulate the least awful option into promising hard policy on physical problems because someone has to oust the incumbent President somewhere down the line. Unfortunately for Spider there are more unfortunate truths to be uncovered.
Darick does a remarkable job of keeping what is essentially political debate and swearing visually stimulating, Warren affording him whole pages to go nuts on, surrounding a maniacal Jerusalem with hellfire as he assaults his laptop and thereby the minds of his New Scum followers.
New Scum
"Everything you look at tells you it's the future. But everything you hear is the same old same old."
Politics for a start, and a public so self-centredly apathetic it cannot even be arsed to get out from in front of the TV once every four years to drag its sorry collective carcass down to the polling booths and vote.
(If you don't vote then you have no right to complain about any aspect of life in the UK. Please don't tell me they're all the same. If you think the BNP is the same as the Liberal Party then I agree that you should at least have your hand held at the booth, but if you decide not to vote because you don't think yours will count then you are an outrageously egocentric wanker I don't even want to take money from.)
Aaaaanyway… As the Presidential Election looms in the wake of last volume's murder, there is a pause to take stock. Everything's changed. The President has gone to ground leaving the ruthless, misanthropic opposition candidate Callahan to bask in a new electoral sympathy, whilst Spider Jerusalem stands way, way up on the balcony of his luxurious new apartment, sequestered from the political intrigue that he feels sucked him in but also from the streets below. It's there that mothers are having to pawn their child's favourite teddy bear for the sake of an appetite suppressor, where all manner of injustices are taking place because of the people in power: those with no ambition, or worse still, those with the active ambition to screw everyone over.
Then suddenly both candidates want to be interviewed by the man they loathe most. They're going to wake the giant up…
Meanwhile, as I say, it's all fun and games down below with a "back to basics" Rechristianity movement stoning people on the street:
"We're bringing moral order to our communities first, before we take it to the country. And I'm afraid that has to include the death penalty."
"For what?"
"Well, I can't proffer you a complete list…"
"I'm recording this for a column. Summarise. Let's bring your truth to the people."
"Oh, I like that. You're a filthy man who should have God's wrath visited upon his nether regions, but you have a good heart. Well now… homosexuality, heresy, unchastity before marriage, cursing one's parents, fogletism, women who get abortions, people who advise them to do so…"
"And why stoning?"
"It's traditional, clean and holy. And cheap, of course. Furthermore, it puts law in the hands of the people. Executions should be community projects."
Darrick Robertson's one-panel punchline to Spider Jerusalem's wicked desecration of some young children's snowmen is one of the funniest things I've ever seen.
SLH
Buy Transmetropolitan Book 2 s/c and read the Page 45 review here
Lazarus: The Third Collection h/c (£35-99, Image) by Greg Rucka & Michael Lark with Eric Trautman, Aaron Duran, Neal Bailey & Steve Lieber, Mack Chater, Justin Greenwood, Alitha Martinez, Bilquis Evely, Tristan Jones
"Family
Above All."
LAZARUS is one of my favourite current comic series: gripping intrigue, balletic action and phenomenally intelligent extrapolation from recent scientific developments, as well as a thorough exploration of the socio-political ramifications of a societal reversal. Each of the first four volumes is reviewed, including the two-in-one hardcovers. This third hardcover collects volume five and the Lazarus: X Plus 66 mini-series.
Spoiler-free summary, for it's important to what follows:
In the far from distance future the world's economies didn't just collapse, they imploded, taking all nation states with them.
The entire globe has reverted to a feudal society ruled by 16 Families: the Families with the most money, because money buys people, money buys science and money buys guns.
Underneath them lies a slim stratum of society with key skills vital for the Families' prosperity and hegemony. These Serfs are richly rewarded, their needs taken care of. Everyone else is Waste.
All Families have a Lazarus, each augmented by differing means according to the individual Family's scientific resources, to the extent that – although they cannot rise from the dead – their bodies can withstand and recover from the most brutal physical punishments. They are then rigorously trained to become the Families' bodyguards, military commanders and ultimate assassins.
In the Carlyle Family's case it is their youngest daughter, Forever. Ever since she can remember she has been told, "Family Above All". And by 'told', I mean 'indoctrinated'. And by 'indoctrinated', I mean lied to.
LAZARUS: X PLUS 66 is a book about loyalty. It's about loyalty within families, but above all loyalty to The Family in whose domain you are permitted to reside. Those loyalties will all be sorely tested.
X Plus 66 is a year. It's the year immediately following LAZARUS VOL 5, marking just over six and a half decades since the Families met in Macau to carve up the world and its riches between themselves. To give Michael Lark a well earned breather, the collection's comprised of six short stories drawn by different artists, each of which picks up on ancillary – but by no means peripheral – characters and their fortunes which there would have been little room to have covered within the central series. In doing so, it provides a wealth of extra flesh on the main body's bone, so I would urge you not to skip it.
There are some superb neologisms for new scientific research and development, like "sleeving": the ability to slot an archived personality, complete with its memories, from one Lazarus into its successor. Not yet possible, but they've achieved the next best thing with Sir Thomas Huston of the Armitage Family taking advantage of all his predecessor's internally recorded and externally archived experiences.
"As experience is the best teacher, each new Sir Thomas benefits from the life of the last."
I think you'll especially want to learn the fate that befalls the Morray Family's Lazarus, Joacquim Morray, given the horrifying swerve in his fate last volume. You'll also discover exactly what relation he is within the Morray Family Tree. This has no small bearing on his past, present and dubious future. Mack Chater (BRIGGS LAND) draws a halting first-page panel which could not have present Joacquim as more vulnerable, his shaved pubic area making it all the more clinical.
Tristan Jones gives the grizzliest chapter the grizzliest of dirty, detailed texture set in The Dragon's lair (The Dragon is the least pleasant Lazarus of the lot – I mean, bwwaaaaar). He's holed away in a remote, claustrophobically dark subterranean bunker with mauled dolls dangling from chains. Unnervingly, there's also one in a rib cage directly outside the entrance to the snow-swept cave entrance and more with cameras for eyes inside.
Surprising, then, that there's a fine piece of painted portraiture framed on a wall. All to do with his upbringing, as you shall see…
The media's plight under feudal control is examined, and the lives of some of those newly elevated from Waste to Serfdom is shown with an extra vantage over a shanty town of those left behind, drawn by Justin Greenwood. You may want to smack one mother.
Lastly, I do know why the elite army training episode comes first, in order to re-introduce and re-emphasise the main theme – loyalty and Family Above All – but it isn't in all honesty quite as gripping as the rest, so do please soldier on.
SLH
Buy Lazarus: The Third Collection h/c and read the Page 45 review here
Arrived, Online & Ready To Buy!
New reviews to follow, but if they're new formats of previous books, reviews may already be up; others will retain their Diamond previews information we receive displayed as 'Publisher Blurb'.
ABC Of Typography h/c (£14-99, SelfMadeHero) by David Rault, others
Angel vol 1: Being Human s/c (£12-99, Boom!) by Bryan Edward Hill & Gleb Melnikov
The Death Of The Master s/c (£17-99, Koyama Press) by Patrick Kyle
John Carpenter's Tales Of Science Fiction – Twitch s/c (£17-99, Storm King) by Duane Swierczynski & Richard Clark
Le Faune De Mars h/c (French Language) (£30-00, Moebius Productions) by Moebius
Le Major h/c (French Language) (£30-00, Moebius Productions) by Moebius
Monstress vol 4: The Chosen s/c (£14-99, Image) by Marjorie M. Liu & Sana Takeda
Paper Girls vol 6 s/c (£13-99, Image) by Brian K. Vaughan & Cliff Chiang
Tales Of Superheroes h/c (£12-99, Penguin) by various
Batman: Nightwalker – The Graphic Novel s/c (£14-99, DC) by Stuart Moore & Chris Wildgoose
Heroes In Crisis h/c (£24-99, DC) by Tom King & Clay Mann
Incredible Hulk: Epic Collection – In The Hands Of Hydra s/c (£35-99, Marvel) by Roy Thomas, Stan Lee & Herb Trimpe, Sal Buscema
Marvel Rising: Heroes Of The Round Table s/c (£11-99, Marvel) by Nilah Magruder & Roberto Di Salvo, Georges Duarte
Berserk vol 40 (£13-99, Dark Horse) by Kentaro Miura
I Hear The Sunspot vol 4: Limit Part 2 (£11-99, One Peace Books) by Yuki Fumino
You're Strong With Me h/c (£11-99, Lantana Publishing) by Chitra Soundar & Poonam Mistry
How The Stars Came To Be h/c (£12-99, Tate) by Poonam Mistry
Kai And The Monkey King h/c (£12-99, Flying Eye) by Joe Todd-Stanton