Featuring Lewis Trondheim, Hubert Chevillard, Keum Suk Gendry-Kim, Alexis Leriger De La Plante, Natasha Tara Petrovic, Rob Williams, Henry Flint, Jonathan Hickman, Neil Edwards, Barry Kitson, Steve Epting, Nick Dragotta, Mark Brooks
Stay h/c (£17-99, Lion Forge) by Lewis Trondheim & Hubert Chevillard…
"Hello!"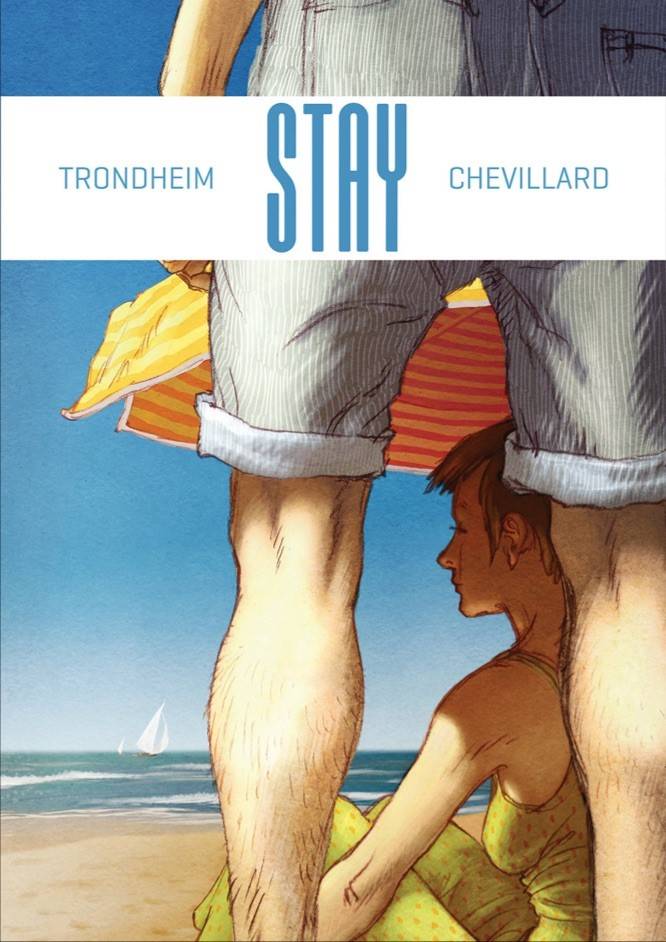 "Hello."
"May I sit? Not with you, at the table besides you.
"I'm not trying to flirt with you.
"I was in a car accident as a child. I have no more penis.
…
"But I can pee in a bottle!"
Which is the point I personally would start running and not look back, but not Fabienne as antique shop owner Paco introduces himself in somewhat madcap fashion. No, instead she decides to stay and have her second croissant. I'd be keeping a hand over the top of my drink at all times though…
I should at this point probably explain that this particular decision to stay put is not the reason for the title of this work. No, but it is very typical of the redoubtable, unflappable Fabien's new-found approach to life. I will let the publisher elucidate matters for you further whilst Fabio in no way continues to flirt with the charmingly bemused Fabienne…
"Roland has planned the perfect vacation for Fabienne to discuss their future. But when unimaginable tragedy strikes, Fabienne is left alone to process this immediate and unexpected change in her life. While most people would abandon the trip out of grief, she decides to stay…"
It probably isn't that much of a spoiler given it happens on the fourth page, to explain that Roland gets decapitated by a flying metal sign due to a particularly strong coastal breeze.
From that point on, whilst most would crumble faster than a dehydrated sandcastle in face of such an impromptu grotesque guillotining of their beloved, Fabienne instead decides to stick to the itinerary that Roland had meticulously planned for their seaside mini-break. Though that didn't, of course, include meeting wildcard Paco.
So, for the second time in recent months (following on from the brilliant MAGGY GARRISSON involving a wannabe private investigator illustrated by Stephane Oiry) Lewis Trondheim produces a masterclass in gently comedic writing. Here this story of what could have been a crippling emotional hammer blow instead becomes a curiously cheering tale of unexpected, liberating freedom from what would have been a very carefully mapped out life.
Appropriately enough, it all really doesn't go or end up quite where you would expect, despite Fabienne's close attention to the detail of Roland's precisely plotted schedule. Warmly illustrated by Hubert Chevillard in gloriously Mediterranean tones this is one to réchauffe les coques de ton coeur or whatever the appropriate French idiom might be…
Buy Stay h/c and read the Page 45 review here
JR
Grass (£22-50, Drawn & Quarterly) by Keum Suk Gendry-Kim~
"Mama, can I go
to school, too?"
"You're whining about school when we've got nothing to eat?"
"But big brother gets to go."
"Don't give me that hogwash! You think you two are the same?"
The year is 1934 and we're in Busan, South Korea. Lee Ok-sun is a young girl with one simple dream: to go to school like her mischievous brothers. Instead, with younger sibling tied to her back, she helps her mother at the market in hopes of scraping together enough to be able to feed the family that evening.
Lee Ok-sun learned from an early age that this wasn't a woman's world. But never in her worst nightmares did she imagine the horrors that her life would hold…
For an idea of the contents of this important yet harrowing biography, here's what the publisher has to say…
"Grass is a powerful anti-war graphic novel, offering up firsthand the life story of a Korean girl named Lee Ok-sun who was forced into sexual slavery for the Japanese Imperial Army during World War II, a disputed chapter in 20th century Asian history.
Keum Suk Gendry-Kim emphasizes Lee's strength in overcoming the many forms of adversity she experienced. Grass is a landmark graphic novel that makes personal the desperate cost of war and the importance of peace."
As heartbreaking and heavy a topic as this is, Gendry-Kim has delivered Granny Ok-sun's story with the sensitivity and tenderness that this valiant, elderly lady deserves. Simplified imagery and softened characters focus on the humanity, not the brutality of the situation.
But that doesn't mean this book is any less powerful. Much like Granny Ok-sun herself, it has a quiet strength, one that gets under your skin and then completely takes hold of you.
"We will keep fighting until the end."
Buy Grass and read the Page 45 review here
JP
Ophiuchus s/c (£14-99, Image) by Alexis Leriger De La Plante, Natasha Tara Petrovic
"Let me ask you
something, serpent-bearer.
"You've come all this way, and why?
"A defunct guard, protecting nothing and her hapless servant, who breaks when they should build?"
"They've told you so little. What about my side of it?
"I only ever offered these machines salvation."
…
"I know you're a liar."
Do you like the Steven Universe cartoon? If you do (you must also check out STEVEN UNIVERSE: THE ANSWER by the way if you haven't already…) then this collection of the highly regarded and exquisitely pink, purple and pastel blue webcomic is most definitely for you.
Aside from the fact it is beautifully illustrated with characters comprised of curvaceously cornered yet pleasingly angular polygons the story is bursting with as much action as it is heart. A most fabulous fusion…
Here is the publisher to tell you a little more just in case you aren't convinced already, before I bombard you with lots of intensely sensual interior art almost exclusively warping into your optic nerves on wibbly-wobbly wavelengths between 380 and 500 nanometers…
"Ophiuchus is the story of the lone sentry of an ancient, inactive gate. One day, a strange being breaks through and infects her with a virus. And shortly after, she is approached by two machines, who implore her to follow them to the centre of the universe to put an end to that virus – a malevolent being which rots all worlds."
Just some fabulous science-fiction that makes a half-hearted attempt to be semi-serious but is too busy having fun!
Buy Ophiuchus and read the Page 45 review here
JR
Judge Dredd: Small House s/c (£9-99, Rebellion) by Rob Williams & Henry Flint…
"Don't do small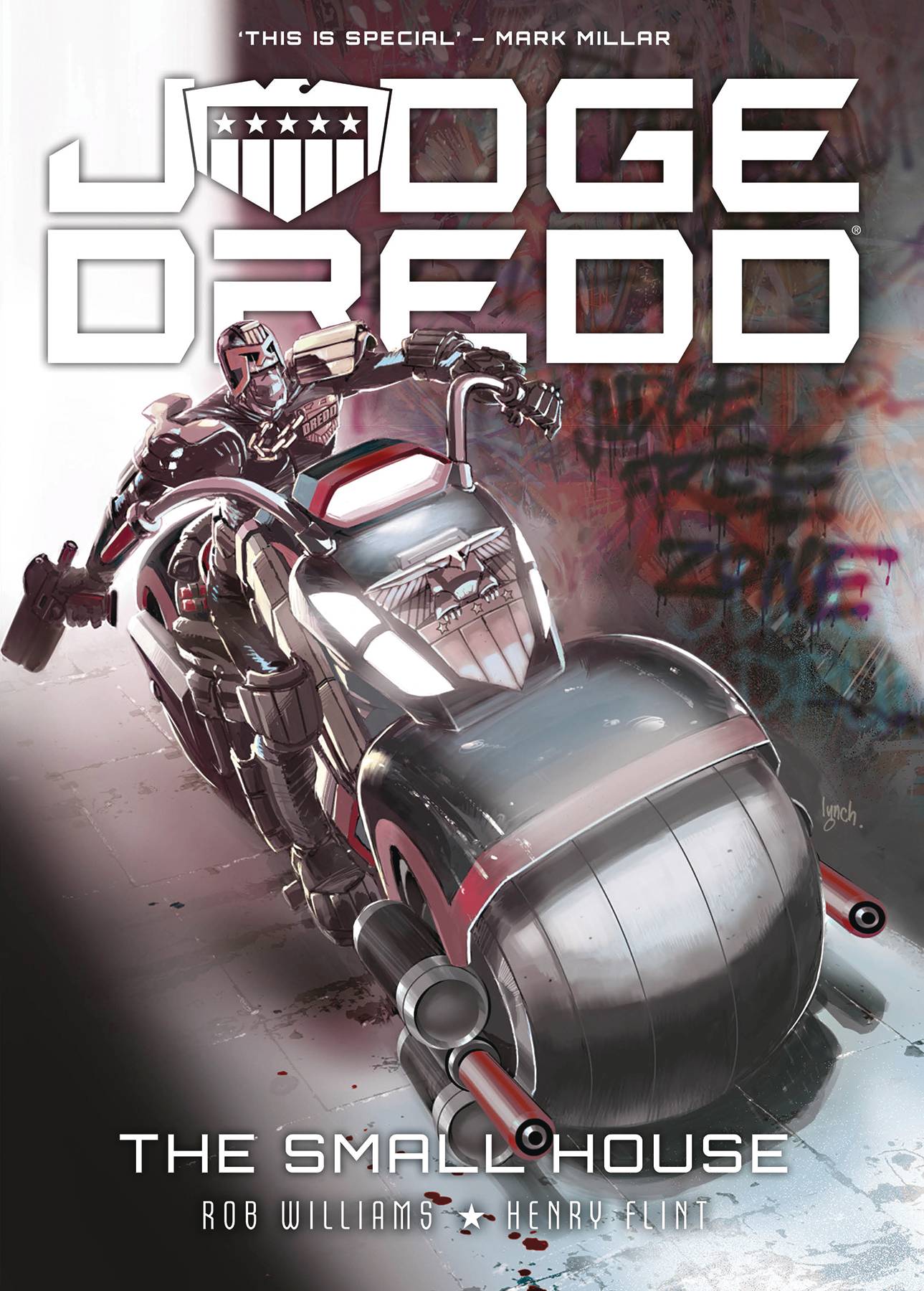 talk, do you? Drive with me."
Haha, that alone cracked me up, Dredd telling someone else they're not the chatty type!! Right, as we were…
"Witness said he was sure he saw Judges. Just for an instant. Two reaching for Benn. Then there was nothing. 'Ghost Judges.'"
"Do you believe that?"
"I've seen the supernatural. I've put my fist through the supernatural.
"That's not what this is. There are other cases, though nothing proven.
"A stealth group, operating outside the remit of the Chief Judge. Operating for someone else."
Indeed… and there is nothing like someone thinking they are above the Law to get right up Joe Dredd's nose…
Here's the bullet laden bulletin from the publisher to give pretty much everything away…
"The critically-acclaimed and fan-lauded latest Judge Dredd tale which sent shockwaves through the universe and Mark Millar called 'one of the best runs ever!' Everything is at stake and no-one is safe, as Judge Dredd and his team of hand-picked allies finally takes on the nefarious Judge Smiley, Mega-City One's behind-the-scenes manipulator!
But who will be left standing at the end?"
Errr… well, I know who I would guess!
I would have to heartily concur, though, with the plaudits for this series. I was absolutely riveted as it came out week by week in 2000AD. Featuring some of my favourite characters like the Wally Squad's Dirty Frank, who featured prominently in the fabulous JUDGE DREDD: TRIFECTA and former SJS Judge Gerhart, it builds on recent stories such as Williams and Flint's own excellent JUDGE DREDD: TITAN, but also shines a new, disturbingly revealing light on events as far back as Block Mania and the Apocalypse War as it builds and builds to a crunching crescendo.
Dredd's going to win obviously. It's what he does. But at what cost? How many colleagues will be acceptable collateral damage along the way this time? And just how high up does this conspiracy go? I mean, is it really conceivable that Chief Judge Hersey is completely unaware of the secret cabal armed with cloaking technology performing covert assassinations made to look like accidents, both locally and globally, that all serve to benefit Mega-City One politically…?
I sincerely hope Rob Williams is going to be involved with the writing of the forthcoming Dredd TV show which is being produced by Rebellion themselves, as he's been responsible for much of the best Dredd material of recent years and this tale is just pure thrill power. Even Tharg needed a lie down after reading it…
Ooops, wrong alien!
So for those lovers of a bit of casual future fascism who might have been wondering whether old Stoney Face has still got it, the answer is a resounding yes. In fact that's five years for even doubting him creep. Head directly to the cubes and do not pass the counter without collecting this book.
Buy Judge Dredd: Small House and read the Page 45 review here
JR
Fantastic Four By Jonathan Hickman The Complete Collection vol 2 s/c (£35-99, Marvel) by Jonathan Hickman & Neil Edwards, Barry Kitson, Steve Epting with Nick Dragotta, Mark Brooks.
Second bumper book
of brilliance from one of the best runs ever on this sporadically functional family containing volumes 3 and 4 plus the first volume of companion title FF (Future Foundation). I've hardly had to change a word since my original reviews at the start of the decade, just find you the appropriate pretty pictures. Strap yourselves in and slap on the cosmic sunscreen…
Fantastic Four vol 3 by Jonathan Hickman & Neil Edwards.
"It's not the scientific method that got us here… it's apostasy."
"Take this, Mr. Whitman."
"What's this?"
"Providence."
God, but this is some damn fine writing and you will need your dictionary which is a very fine thing indeed. So yes, providence provided by Reed Richards to his former rival, the Wizard, now being cared for in a metahuman psychiatric facility. He's singularly interested in the creation of life, specifically through mitosis. There's a lot of that this volume from some unexpected sources:
"And now for knowledge. The coming days are going to be dark… Dark and full of loss. It will feel like everything is going to break apart… that it will shatter and everything will end. Only you can hold us together. Can you be strong, mother? Stronger than you've ever been before? There will be a moment when you're going to want to give up. You're going to want to let go….
"When you reach that point, look into the sky. Look up… and remember the price that was paid."
Looks like I was on the money and all of the previous volumes' little chapters are converging – the past and the future – in an ominous way as evidenced by the super-evolved Molemen now in residence at the Baxter Building. They've just taught themselves to read, and swiftly moved onto the computer system:
"Did you know that a curved axis runs from the Forever City, through a place called Old Atlantis, to an Inhuman city-ship on the moon? The radius of that axis happens to mirror the frequency at which a portal to the Negative Zone opens."
Oh dear.
Reed Richards has seen the light as well as the possible darkness ahead, and it's expanded his ambition considerably.
He's here to educate, to provide the planet with a limitlessly positive future, and he won't accept apathy, resignation or second-best. Quite right too. Class is now in session – but what's the previously primitive Dragon Man doing at the back?! He's been rewired by Reed's daughter Valeria and together Reed's new students have already thought well outside the box:
"So can I assume you have a new way of attacking a problem that I've personally failed to solve over the years?"
"Uh-huh. It deals with rejecting a binary endgame. The on/off nature of the problem that's tripped you up in the past… I think we can win and lose at the same time, sir."
The problem they've solved is Ben Grimm.
In addition Neil Edwards has now flowered into a worthy substitute for Bryan Hitch, particularly when it comes to the children's faces, there's a delightful trip out to a decidedly different toy store and Franklin's learning judo!
Hickman's work in this is completely accessible to newcomers yet conversely it's also steeped in Marvel history and will reward any long-term fan with a modicum of intelligence by moving that history on substantially: by embracing it, extrapolating from it, and upgrading it in such a fashion that you'd think that Hickman was actually Warren Ellis. He might be, actually, only there's no filthy swearing just a great deal of fun.
SLH
Fantastic Four vol 4 by Jonathan Hickman & Steve Epting with Nick Dragotta, Mark Brooks.
"Since the birth of everything, all life writhes in anguish… The suffering of billions of years of prolonged decay – the scars sit deep within us. You know this is true, because the pain resonates… We all share that core dread… that small, still voice coming from the older, primal place in our minds… We are all dying."
Well, he's a glass-half-full kinda guy!
This final book in the first phase of Jonathan Hickman's FANTASTIC FOUR ends in catastrophe for the family with the loss of one of their members. Knowing that as you read this makes for quite the poignant experience.
So many threads set up not just by Hickman but by Mark Millar in his own excellent run (WORLD'S GREATEST and THE MASTER OF DOOM) come back to haunt them whilst one remains far from resolved and is only now becoming clear in the start of the second phase under the title FF (Future Foundation). Steve Epting has long been one of my favourite Marvel pencillers and his kids in particular are a just-so joy, though perhaps the finest panel is Sue Storm's eyes rolling to the heavens under Namor's admiration only after she shouts him down in public. He's thrilling, subtle and his expressions carry weight. Quite why the final silent issue, the denouement, is given to someone else, I cannot comprehend.
Without giving too much away, Sue's role as emissary between the old and new Atlantean factions takes a substantial turn for the unexpected, Galactus' dead body which Reed Richards decided to bury is finally discovered, Ben swallows the serum Valeria and co. concocted to give him one week a year in his old human body… and that bloody Negative Zone portal never did anyone any good, did it?
Hickman, however, is master of the unexpected… like young prodigy Valeria casually teleporting into the throne room of Victor Von Doom who sits brooding about what he has lost.
"What's up?"
"Young lady… Showing up unannounced is rash, unsuitable behaviour… even for a child. Does your father know where you are, Valeria?"
"Actually, he's why I'm here."
"And what has he done now?"
"Daddy went and built a very bad machine and forgot to tell anyone… Guess who just found it."
Includes the script to silent issue #588.
SLH
FF vol 1 by Jonathan Hickman & Steve Epting, Barry Kitson.
"And then I began to wonder why exactly all those villains are in my house. What would scare them as much as it would scare us…? What have you been hiding from me?"
"Oh Susan…"
"What's happened, Reed?"
"I've done something terrible."
So many secrets. So much left half-said!
The curtain rises for a fresh start, but in so many ways it's merely the second act of a carefully orchestrated piece of theatre whose first four books were bursting with dramatic irony which now plays itself out as each family member finally comes clean, but only when they're finally found out! By that time, of course, it's a little too late to mend as four familiar forces have been unleashed upon this world and set about acquiring the resources they need to leave it – not in one piece, either.
The Fantastic Four are no more. The family is one man down, and some of them are coping better than others. Wracked with guilt, Ben Grimm has shut himself inside his room, cradling Johnny Storm's nephew and niece against his orange-rocked hide. But as the famous '4' emblem is taken solemnly from their wall, Reed Richards takes Johnny's holographic Last Will & Testament to heart and asks Spider-Man to join their endless quest to build a better world.
It's Johnny's sister Sue who beckons Peter inside and shows him around. Things have changed. For a start they're now called The Future Foundation with an extended family of waifs and strays, some more clever than others, studying under Reed Richards and brainstorming to solve problems with their fresh new perspectives. For that Peter's perfect, and Reed's child-prodigy daughter Valeria has a knack of not only finding solutions but identifying the problems in the first place. And then she just causes some more. She's discovered what her bad Dad's been up to and promptly exacerbated his mistake and so made a deal with the devil, Victor von D himself. Doom can't resist either her singular challenge (once more, the irony!) nor her offer of assistance for he has lost a part of his mind. Fortunately his brain is at least structurally sound, so what they need is a backup.
I can't tell you how cleverly that's played – Valeria and 'Uncle' Doom are an exquisite double-act; she fearless, he constantly surprised – because it requires Steve Epting's superb, deadpan comedic timing. His art is a considered joy. The enormous gargoyle Dragon Man cross-legged on a comfy sofa and studying a book, spectacles perched on his purple beak looking like Sage The Owl, is an absolute hoot.
Also, the costumes have changed and change further still, third-generation unstable molecules creating variations on a black and white theme of three honeycomb hexagons or, in Peter's case, a spider. He's very much a guest. He's not the only guest, either. Richards' father has resurfaced from the timestream thereby altering the family dynamic further still, and then there are those invited by Reed to Doctor Doom's unprecedented symposium in the Baxter building. Each attendee has been psychologically enhanced by Hickman, one for example with a born-again fervour and another, the Mad Thinker, finally living up to his name. Here he is doing Spider-Man's nut in:
"An invitation. An invitation! It's the opening move of the greatest of games – Ask yourself, who's the opponent, what does he want? Is this his first move, or simply an orchestration to reveal who his opponents are… Oh, so very tricky. An invitation… what could it possibly mean?"
"I think it means you're invited."
"Mmmmmaahhhh! No. No. No. No! Foolish pawn. Foolish pawn that doesn't even know that he's a piece… Oh, oh… Or maybe you're something more. Maybe so. Yes, maybe I can use this. You're probably not even aware of how much he's given away by sending you… So, reveal all. Tell me – and don't try and think it over, as I need an untainted, primary response – tell me, what should I do?"
"Oh… I would prefer that you stay at home. Maybe take a bath… Maybe brush your teeth."
"That's it! That's it – I accept the invitation!!"
"… Of course you do."
Now it's your turn.
Buy Fantastic Four by Hickman Complete Collection vol 2 s/c and read the Page 45 review here
SLH
Arrived, Online & Ready To Buy!
New reviews to follow, but if they're new formats of previous books, reviews may already be up; others will retain their Diamond previews information we receive displayed as 'Publisher Blurb'.
Hellboy And The BPRD – 1956 (£17-99, Dark Horse) by Mike Mignola, Chris Roberson & Mike Norton, Yishan Li, Michael Avon Oeming, Paul Grist
Infinite Dark vol 2 s/c (£14-99, Image) by Ryan Cady & Andrea Mutti
Little Mama s/c (£17-99, Magnetic) by Halim Mahmouidi
Outcast vol 7: The Darkness Comes s/c (£14-99, Image) by Robert Kirkman & Paul Azaceta
Sandman: Dream Hunters (30th Anniversary Prose Ed'n) (£14-99, Vertigo) by Neil Gaiman & Yoshitaka Amano
Batman: Damned h/c (£24-99, DC) by Brian Azzarello & Lee Bermejo
Joker: His Greatest Jokes s/c (£16-99, DC) by various
Immortal Hulk vol 4: Abomination s/c (£14-50, Marvel) by Al Ewing & Joe Bennett
Venom Unleashed vol 1 s/c (£15-99, Marvel) by Donny Cates, Ryan Stegman, Cullen Bunn & Juanan Ramirez, various
Tokyo Ghoul re: vol 12 (£8-99, Viz) by Sui Ishida
Final Fantasy Lost Stranger vol 2 (£9-99, Yen Press) by Hazuki Minase & Itsuki Kameya
Final Fantasy Lost Stranger vol 3