Featuring Jon J Muth, Stanislaw Lem, Kevin Huizenga, Neil Gaiman, John Bolton, Scott Hampton, Charles Vess, Paul Johnson, Ed Brubaker, Sean Phillips, Elizabeth Breitweiser, Brian Azzarello, Lee Bermejo.
The Seventh Voyage h/c (£17-99, Scholastic) by Stanislaw Lem & Jon J Muth.
We're
all a little wont to get in our own way, aren't we?
A deft, whimsical comedy set in the inky depths of space, adapted to comics by MOONSHADOW's Jon J. Muth from a Polish author (1921-2006) whom I shall now be searching out. Handily, there's a reasonably extensive background and process piece in the back, revealing along the way just how long this has been in the making.
You know the phrase "'Ave a word with yourself!"…?
That's precisely what space mechanic Ijon Tichy will be doing for the foreseeable future: attempting to extract practical information from himself as he was yesterday, as he will be tomorrow or indeed as the person he will become on Friday from the vantage point of the chap he has since become on Wednesday after leaving both Monday and Tuesday behind.
It's all in the hope of mentally unravelling and so fathoming the cause-and-effect complexities of time travel, before he mentally unravels himself, or even brains his more belligerent aspects with a length of lead piping.
At some point, one or two of them might even cooperate long enough to perhaps change the rudder outside, which was damaged on the very first pages by a tiny passing meteoroid, and was why he first set course for the temporal anomalies, in order to give himself a helping hand. He can't change it on his own because it's held on by a single gigantic nut-and-bolt screw, and he cannot reach round its fin to turn the screw whilst maintaining adequate purchase on the wrench round the rudder's other side. He tried that. The wrench flew out from under his feet and is now slowly orbiting the space ship, tantalisingly too far away.
It's more of a space rocket than a space ship: everything is extremely low-tech for, as I say, Tichy is more of a mechanic than a pilot. There aren't many switches; you pull levers instead. From the outside at least, it's no larger than your lounge, and our narrator is first discovered baking bread in an old-school electric oven.
He looks out of a portal as you might your bedroom window at night, while his library houses a small coffee table and comfy armchair. The lampshade's very cosy. The ballooning space suit he dons in his initial attempts to fix the rudder is closer akin to a deep-sea diving affair – and that, from a century ago – but with a bell-jar helmet. There's no way it would actually fit through the hatch, but that's the sort of book this is. See gigantic nut-and-bolt screw.
As you'd expect from the artist on MOONSHADOW it is exquisitely painted in lovely loose washes predominately in lilac and yellow ochre over light pencil outlines, and I spent many, many minutes contemplating how Muth had managed to execute the wet-brush starscape behind the back-lit meteoroid. Gerhard on CEREBUS used to flick white ink onto black backgrounds with an old toothbrush.
As in the script, so in the art there lies comedy. I loved the star chart declaring his current course to be within decidedly dangerous territory, multiple red arrows warning "DON'T GO HERE" while other areas are marked "run away" or "yikes!" Thanks to all the vortex turbulence and gravity gone right wonky-woo, he keeps getting battered upside the head by a hardbound copy of the General Theory of Relativity.
Get ready for your own head to hurt in harmony with his. Not everyone enjoys their own company.
"Quick, let's go outside, we might just make it!"
The Thursday me grabbed the me that was I.
"But the rocket will fall into the vortex any minute now. The shock could throw us off into space, and that would be the end of us."
"Use your head, stupid. If the Friday me is alive, nothing can happen to us. Today is only Thursday."
"But it's Wednesday."
There's a serious flaw in Wednesday him's plan, just as there had been in Monday's and Tuesday's and from now on solving that will become key. That, and keeping track of himself:
The Friday me wasn't there; I looked in the bathroom, but it was empty too. I returned to the kitchen where the Thursday me methodically cracked an egg with a knife and poured its contents onto the sizzling pan.
"Where's the Friday me?"
"Somewhere in the neighbourhood of Saturday, no doubt."
SLH
Buy The Seventh Voyage h/c and read the Page 45 review here
Glenn Ganges In: The River At Night h/c (£25-00, Fantagraphics) by Kevin Huizenga…
Collecting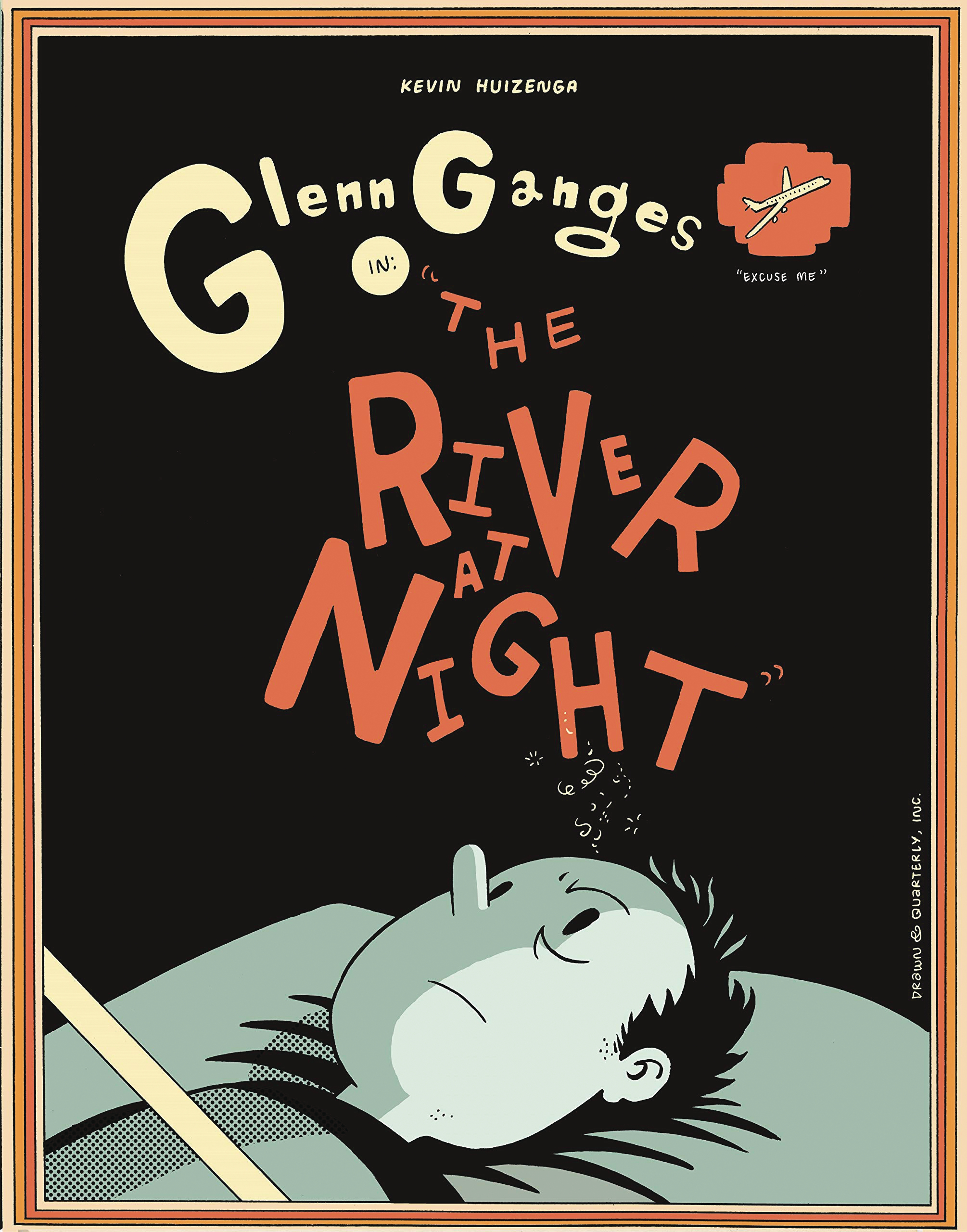 all material from the six Ganges periodicals in one glorious hardcover! Split therefore into six chapters, here are my original reviews of issues four and five.
Chapter 4…
I've only had the misfortune of suffering real insomnia once, after a rather foolish third post-prandial double espresso at a particularly good Italian restaurant in Bedfordshire following a 'business' meeting many years ago. Sadly for me, I wasn't at home with a full range of distractions available to me, unlike Glenn Ganges in this latest instalment of his ongoing grapple with life in general. Instead I was staying at a quiet hotel in the middle of nowhere.
This was also in the days where '24 hour' television consisted solely of Pete Waterman and Michela Strachan 'aving it large on the Hitman and Her on a Saturday night. Unfortunately for me, however, it was a Wednesday, so I had the choice of the test card or teletext. And, as the clock ticked its merry way on throughout the night, I, sans reading material of any nature save my road atlas and meeting notes, just lay there as my sense of wakefulness moved gradually from initial amusement, on to mild despair, developing into full blown existential crisis, before neatly circumnavigating briefly through hysterical laughter at about six a.m. when I finally fell asleep. For all of an hour before I had to get up….
Amusingly enough Glenn seems to pass through most of the same stages, whilst also finding time to fret about the size of his book collection, accidentally let the cat escape from the house and then have to retrieve it, and also get rather spooked by some innocuous shadows whilst half-asleep. Great fun as always from Kevin, he certainly knows how to spin a yarn out of almost nothing.
Chapter 5…
"Mom, how old is the Earth?"
"It's like, 4.5 billion years."
"Yeah right, ha ha… that's what they'll try and teach him in public school."
What you can't see from the above exchange between Kevin, his wife Wendy's cousin Angela and her son having dinner together after the funeral of Wendy's Great Aunt Shelly is the huge kick under the table Kevin receives from Wendy, when he answers the young kid's question without thinking! I should probably add that Shelly's family are Baptists living in Florida and smack bang in the heartlands of America's Bible Belt. Creationism is rife down there and offense can be taken very easily.
Meanwhile, not thinking, and indeed, not doing, are two things Wendy accuses Kevin of rather a lot. Quite rightly so, by his own admission, but it's to the extent that not only can he now usually see an admonishment of yet another transgression coming, but he's developed a whole range of deflective techniques to avoid said lectures on the twin topics of his thoughtlessness and procrastination.
This time, though, Wendy's needed to put the boot in sharpish before he can sink his own foot any deeper into troubled temporal waters. It's not even the first time she's had to do it today, either, having already dispensed another covert leg sweep during the eulogy itself as Kevin zoned out to a happier place of pondering the big question you might find yourself asking at any funeral… of what they were having for lunch…
As ever, Kevin does a marvellous turn in self-deprecating humour and once again the amusing auto-biographical material provides a neat lead-in to this issue's topic on which he'd like to enlighten us, the evolution of our planet, and the timescales thereof. Or as he much more prosaically describes it… "Time Travelling: Deep Time."
I love how Kevin really let's his talents for composition run wild in these sections. He always starts us off gently with a few simple devices, gradually increasing in educative and artistic complexity, as he explains how Scottish "Gentleman Scientist" James Hutton, who we could arguably call the first geologist, decided in the 1700s (pre-Charles Darwin mind) that the Earth simply had to be considerably older than the perceived scientific wisdom of the time of a mere five to six thousand years.
Kevin then walks us through Hutton's theories and thought experiments to show us how he hypothesised the formation of the planet, plus also illustrating the geological processes actually involved, culminating in a truly impressive double page spread. His ability to get what he's visualising out of his head and onto the page is exceptional.
JR
Buy Glenn Ganges: In The River At Night h/c and read the Page 45 review here
Books Of Magic (30th Anniversary Edition) s/c (£16-99, DC) by Neil Gaiman & John Bolton, Scott Hampton, Charles Vess, Paul Johnson.
"Magic
grants no freedoms, friend pupil. Everything it buys must be paid for."
"Science is a way of talking about the universe in words that bind it to a common meaning. Magic is a method of talking to the universe in words that it cannot ignore."
In which Neil Gaiman explores what magic means and what it can do; the myriad legends that it has already created, to which Neil now adds another. With almost impossible dexterity Gaiman gently folds DC's established tall tales and occult-orientated characters into the wider mix of fantasies outside that specific setting, and binds them together while embracing all aspects, all variations on a theme, so that Christian stories of Heaven and Hell with their angels and archangels and its celestial city sit comfortably and compatibly alongside Egyptian, Chinese, Greek and British mythologies as well as DC's own demons and The Dreaming et al. It's a pretty neat trick to pull off.
Magic is the power of man's imagination so, as ever with Neil Gaiman, this is also about stories: about the art of storytelling by conjuring carefully chosen words, so shedding light on the darkness. It's about communication, and there is a great deal to be communicated here with some sense of urgency, for a young boy called Timothy Hunter has been identified as the most powerful mage of modern times, potentially. Whether he will be a power for creation or destruction is unclear, which is why the Phantom Stranger, Dr Occult and Mister E have taken it upon themselves to educate Tim Hunter, and dragged a reluctant John Constantine in too.
"Just what the world's been waiting for. The Charge of the Trenchcoat Brigade."
"I heard that, John Constantine."
Constantine absolutely makes the book, so well is he played by writer and artists alike. DC's cheeky chappie and ultimate rogue, he is neither a team player nor strong on reverence. He is reckless, he is dangerous, but in some ways he's the safest pair of hands you can imagine. Although try telling that to the ghosts of his friends. Such is his history that he's made welcome nowhere here except by Zatanna, and there's a single-panel, snort-inducing sight-gag by Scott Hampton, which if you blink you will miss, after John visits the restroom and returns with a stinging, livid-red slap on the cheek.
A pomposity-puncturing iconoclast who rankles at authority, Constantine is immediately drawn to Tim Hunter's cynical, sceptical and spirited defiance: Tim's initial instinct is that his new mentors are a bunch of mack-wearing pervs. It is John's role to introduce Tim Hunter to the contemporary cast of the DC universe: the Spectre, Jason Blood, Madame Xanadu, Baron Winter (Boston Brand AKA Deadman introduces himself, several times over, in a riotous running joke), and all of them have something to say about magic including Dr Fate, he of the hungry helmet:
"The imposition of order on formless chaos, the release of joyous chaos into the grey monotony of order… This is the true magic. All else is shadow."
Hmm. I'd caution against judging until you learn the destiny of Fate.
This is the DC readers' crowd-pleasing chapter, without once alienating those who've never bought one of those books before. Instead Neil neatly slots these characters into the story he wants to tell within its own context. Painted comic art was relatively rare in those days, so that helps set the alternative tone too. Almost everyone he encounters has dire warnings for Tim about the price he would pay, as do they all in the past.
The past is the province of the Stranger, illustrated by John Bolton who did a bang-up job of maintaining yet blending the pair's physicality with the limbo-like nature of what they half-glimpse around and beyond them. There are layers and layers of painting art here, executed long before they could be all shot separately then blended by computer like ALICE IN SUNDERLAND. So much of it will have been in the script but not in the dialogue, so letting your eyes wander pays dividends.
As to Charles Vess who depicts Tim's journey with Dr Occult through the rule-ridden, trap-laden land of Faerie, his line is as solid as his washes are ethereal; his colours so soft, yet as sharp and bright as you like. There is a spectacular, shepherd-delighting, early evening sunset over a lake that goes on forever; his Goblin Market is as fine as anything you saw in STARDUST; and Queen Titania's palace is an exemplary essay in architectural jade.
Gaiman is perhaps at his finest in Faerie. Its appearance in SANDMAN: DREAM COUNTRY won him a World Fantasy Award in 1991, while he returned to the etiquette involved in INSTRUCTIONS, both also illustrated by Charles Vess. There's something about Neil's writing when it comes to these legends and lore which is far from portentous but Demanding You Pay Close Attention – a bit like capitalised phrases in AA Milne's Winnie The Pooh!
It is here that a naïve Tim makes his most worrying mistakes, proving beyond doubt his need for both education and guidance; and it is here that we return to the vital aspect of magic as mind-altering alchemy in the hands of wordsmiths worldwide. Here's Queen Titania:
"You wish to see the distant realms? Very well. But know this first: the places you will visit, the places that you will see, do not exist.
"For there are only two worlds – your world, which is the real world, and other worlds, the fantasy. Worlds like this are worlds of the human imagination: their reality, or lack of reality, is not important. What is important is that they are there.
"These worlds provide an alternative. Provide an escape. Provide a threat. Provide a dream, and power, provide refuge, and pain.
"They give your world meaning. They do not exist; and thus they are all that matters. Do you understand?"
"No."
No, Tim doesn't, not yet. He may never get a chance to understand if other forces succeed. He's yet to see the future – his possible future and those far beyond – but he'll be led there by a blind man fixated on the darkness around him: the darkest aspects of the human heart. You'll be alarmed by whom Tim meets in his future; but you will love it when you see who turns out the lights. Who does turn out the lights at the end of the universe? It's not necessarily who you think, but sleep tight.
Comparisons have been made between this and the subsequent Harry Potter books by JK Rowling. Some would say "consequent", but not me. Not in those scolding terms, anyway, for both writers have been charitably generous and, besides (totally besides), this too is a book based on (and informed by) stories which have gone before. That is its whole raison d'être.
Searchers will see by just one look that the opening sequence shows the two poles apart. However unloved, Harry Potter is lured from his relatively safe suburban surroundings into the privileged life of a boarding school, whereas Timothy Hunter is first seen skateboarding alone and vulnerable round the concrete jungle of a deserted industrial-estate market, its closed shops desperately crying about "Crazy Price Clearance" sales. It is bleak, it is barren, and the jaws of its pitch-black underpass gape wide.
Into the abyss, Tim Hunter. Into the abyss.
Timothy Hunter will need to make some smart and swift choices, not least of which will be whether to accept magic at all. He will hear conflicting stories of fortune and free will. He will see things which no fourteen-year-old was ever meant to see. And he will need to make those choices informed not by The Truth (for there is no such singular thing) but by truths, and by stories.
As Uncle Alan Moore once famously pronounced, "All stories are true".
SLH
Buy Books Of Magic (30th Anniversary Edition) sc and read the Page 45 review here
Kill Or Be Killed Complete Deluxe Edition h/c (£44-99, Image) by Ed Brubaker & Sean Phillips with Elizabeth Breitweiser.
KILL OR
BE KILLED is the psychological self-examination of an affable and educated young man's descent into mass murder.
That's the sentence I returned to, time and again, during my reviews of these four phenomenally compelling softcovers, tweaking or embellishing it a little each time. You'll see it appear at least three times below. Before we begin, extras this time include all of Jake Phillips's essay illustrations liberated from text, and some Sean Phillips art used elsewhere.
Kill Or Be Killed book one
"See? That's what was going around in my head.
"An endless argument spin cycle.
"Point, counterpoint… all day long."
In which the snow blows thicker and thicker.
To begin with it's almost soft. It's certainly softer than a sidewalk from six storeys up.
It tumbles across the sprawling city as far as the eye can see, which is further than you might think; especially when you're on one of its rooftops, so precariously close to the edge and determined to jump.
From below the thick flakes recede, smaller and smaller, into the heavens which glow a rich, luminous turquoise, while below all is neon-lit for danger.
By the final four pages of the first chapter it's a veritable blizzard in blinding, icing-sugar white, with wild flashes of thought and explosions of violence like landmines detonated in your head. Then, when it's settled, there's a moment of clarity – for Dylan at least.
He's not going to kill himself. He's going to kill other people instead.
From the Eisner-Award winning creators of CRIMINAL, FATALE and THE FADE OUT, the first six pages are a bludgeoning barrage of quite cathartic violence, all the more brutal to behold because Phillips has dispensed with the frames and the gutters to go full-bleed to the edge of each page. It's more immediate. It's more in-your-face, just like that shotgun, which is meticulously rendered and weighted.
Crucially, however, even if it's more difficult to draw, then it's as easy to read as ever, for the three-tier structure remains intact, the panels inset instead against an extended background. It's something he carries right through the subsequent flashbacks and it pays off especially outside because the wider sense of space is phenomenal.
Anyway, in case you're reading this on the product page rather than the blog, here's some of Dylan's socio-political self-justification. It's not why he's blowing holes in these very bad people, but isn't it kind of comforting to know that you're making the world a better place than it currently is?
"Just look at the news for five fucking minutes and it's obvious…
"Big business controls your government…
"Assholes go on shooting rampages almost daily…
"Terrorists blow up airports and train stations…
"Cops kill innocent black kids and get away with it…
"Psychopaths run for President…
"Oh, and the Middle East is one nuke away from turning us all to dust…
"And that's just the tip of the iceberg."
What follows does not lead directly into the opening sequence – this is a long-form work, and Brubaker has a lot to explore in terms of psychology and practicalities before Dylan develops into a proficient and equanimous mass murderer – but it does go some way to explaining how Dylan, studying later in life than most at NYU, might eventually find himself a) with a shotgun b) using it.
It begins with that attempt at suicide – not his first, either – and that began with a girl. It began with his best friend called Kira, one of the few people Dylan felt ever understood him. She got his sense of humour, his taste in music and his sense of isolation which had already set in before his flatmate Mason got between the two of them by dating.
"Their relationship ruined the one good thing I had.
"Kira still came to our place all the time, but almost never to hang out with me.
"And that made me feel even lonelier than I usually did."
That sense of being cut off from Kira is emphasised by Phillips in a similar way to what Ware did at the window in JIMMY CORRIGAN: by distancing Dylan, isolated inside his own panel, from the rest of the couch where Kira and Mason sit closer together. Breitweiser bathes the lovers in light from the television set they're watching, whereas Dylan remains shrouded in darkness. I can't imagine anything much more uncomfortable.
Oh wait, I can, because that's what happens next. And eventually it leads to the rooftop.
Where that leads is even more startling, but I'm not about to spoil that for you now. All I will say is that Dylan's head is far from healthy. He's fallen far enough already, but he's got a long way to go before picking up a gun and going if not postal then at least house-hunting.
As I've mentioned before, one of Brubaker's many fortes is making you want to spend as much time as possible in his protagonists' minds, no matter how disturbed. Here he does so in part through Dylan's vulnerability and confessional, apologetic and self-searching tone. However confident in his newly acquired worldview Dylan seems on the first six pages – and I'd place money on that being a 'good' day – none of that is reflected in any red-bloodedly aggressive tendencies either earlier in life or even now.
This is not a revenge story and Dylan's acts are not an expression of angry contra mundum. They are instead acts of survival which require – and result in – all sorts of practicalities which Brubaker explores in depth.
One of those practicalities is avoiding any meaningful conversation with Kira even though their relationship grows increasingly complicated and Kira's being honest with him. The guilt that he's not reciprocating gnaws at Dylan, but he is fully aware that if he begins to offload in one way he's likely to do so in others. Kira's love and genuine, deep-rooted concern for him is the one thing he has left, and it's almost certain to evaporate instantly if she learns he's beginning to stalk and murder very bad men, whatever the crimes they've committed.
As well as his prowess as a weather and landscape artist – there are so many daylight cityscape shots of extraordinary detail which Breitweisser colours with a finger-numbing freeze – Phillips gets to show off his photo-realistic skills as Dylan sifts through the erotic fantasy stories his father illustrated, recalling his dad's craft by conjuring one of those nudes in his mind's eye. Wouldn't you just know that she'd look one hell of a lot like Kira? And as he remembers perving over the magazines with his young friends, aged 6 or so, he realises who has behaved so horrifically as to merit being his first target.
This begs further practicalities for a novice like Dylan, like finding a gun which won't be traced. As to hunting down someone he only knew only tangentially many moons ago, well, that's what Facebook's for, right?
But then there's the self-searching and doubt which I alluded to earlier.
"See, I kept having this sick feeling that I might have killed someone for no reason.
"Like, think about it for a second. There had to be some possibility that I hallucinated [REDACTED]. "Didn't there? And if I did, if it wasn't actually real, that meant my head was fucked, right?
"Which meant the way I remembered that day with Teddy could be wrong too… Right?"
Now, that's all very specific to this particular story, but one of Brubaker's interests lies in our universal, shared experiences and another of his skills is in making those connections and exploring their implications.
"I've read how memory works…
"I know we edit our memories so we look better in them.
"So what if I made up the whole thing?
"What if I was just like those assholes back in high school, pretending to have some secret link to the tragic dead kid?"
That would be Teddy.
"Except… Why would I make up a childhood story, especially one as sick as that, and never tell anyone about it?
"Who makes up a story and keeps it a secret?
"What is the point of that?"
Sorry to keep the quotations so cryptic, but you've got to be wondering what his memory was now… Right?
We've got a long way to go before we get to page one.
Kill Or Be Killed book two
The psychological self-examination of one affable if awkward young man's descent into mass murder.
If you think it improbable that you will root for the guy, I'd remind you that such is the strength of Brubaker's internal monologues that the self-contained CRIMINAL: THE LAST OF INNOCENT had us all desperately praying that a man could get away with uxoricide.
This is the periodical I pick up first no matter what else is on offer on any given week.
There's nothing sensationalist about it. Our narrator is an astute individual with a keen moral compass, and that's as much of a trigger as anything. Much of the priming in terms of mental isolation has already been explored, but the other trigger – the core motivation, if you like – is an element of the first KILL OR BE KILLED which I deliberately kept from you for fear of spoilers.
I'm not going to elaborate here, either, except to say that there is a moment of discovery on the part of his best friend Kira which leaves her in fear for Dylan's safety, while holed up in his closet as he makes love to an ex-girlfriend. Kira, it should be noted, is undoubtedly the love of his life, but lest he blurts out something incriminating he's been keeping her at a distance, even as she confides in him.
It's not this discovery that he's worried about, but he should be.
And it explains everything which you may have puzzled over in book one.
Where Dylan has become compromised is with both the NYPD and the Russian mob now, after one public blunder (or a spot of bad luck) and a miscalculation about just how wide the Russians' net is spread and how tenacious they can be. Fortunately institutional sexism and male police pride may give him some breathing space for now, but the Russians are more open-minded and resourceful.
There's little more that I didn't explore in my substantial review of KILL OR BE KILLED VOL 1 (so I'd refer you there instead) including Sean Phillips's decision to retain his three-tier structure while throwing the art full-bleed, right to edges of each page, so that you're no longer kept at an observational distance but thrust right into the heart of the action and Dylan's head.
Here's more of his self-justification:
"Lobbyists aren't all bad, of course. Some lobby for human rights or the environment. But most of the time, they work for big business and what they do is, they pay a lot of money to politicians to pass laws or repeal regulations… so the corporations they work for can do whatever the fuck they want.
"Gideon Prince was the kind of lobbyist who helped put poison in your drinking water and then laughed about it to his buddies.
"And what I mean is, he'd done that exact thing…
"And yes, look – I know this one is sort of a stretch. He didn't personally poison that ground water. But people who can look at dumping chemicals as a good thing because it saves them money… who can make fun of the people who are suffering because of it?
"It's hard to argue the world wouldn't be better off without them."
He's exceptionally self-aware and quite the philosophical conversationalist when it comes to his audience if not his few "friends" whom he keeps at a remove. He's not deluding himself, except when it comes to that one key element which, when you discover it, is sadly so common.
Most of his longer reflections and reminiscences are aligned down blank vertical columns outside of the art, giving them chance to breathe, but don't get too complacent about what's being shown there, that's all I'll say.
I never intended this second review to be anything but brief, but you could write an essay on the body language alone: little details which either Brubaker or Phillips drops in, like Detective Lily Sharpe – the one on the ball whom her fellow officers studiously dismiss and ignore – who was raised in foster care between several group homes, reading on the bottom bunk of a bed, the toes of her bare feet digging self-protectively into the duvet as someone else's dangle over the top.
There's something squat, rough and ready about Dylan's physique and physiognomy. It's not simian, but it's burly and certainly atypical of most protagonists', both within comics and without; I keep thinking of the Gallagher brothers from Oasis.
Anyway, with police attention now drawn, so is the media's and I suspect Sean will become quite sick of drawing news stands before Dylan's done.
Dylan is forced to become more reactive while increasingly restricted, and even though you know that he lives to tell this tale (if not under what circumstances), you will be kept on the edge of that proverbial seat, toes possibly digging into the carpet.
Kill Or Be Killed book three
"And suddenly every word that she said was a gift.
"Every smile was a miracle,
"I'd been so stupid… We're all so stupid all the time.
"We stop noticing our miracles."
We do indeed.
And now for the bits you've been waiting for!
KILL OR BE KILLED book one began in blazing gunfire, a sequence we've been promised a return to, and by the end of this volume you will finally see Dylan in that "hotel" with the shotgun, you'll understand exactly why he's so focussed, specifically on social injustice, and it's all but the beginning of a meticulously thought out act-and-distract plan to shut down the local Russian mafia for good.
If he doesn't, they've given every indication that they will come for his girlfriend, Kira.
KILL OR BE KILLED has been the practical and psychological self-examination of one educated young man's descent into mass murder.
It didn't start with the Russian mafia, it began with a suicide attempt and several episodes which he now hopes were psychotic, but I still don't want to give that game away because we're looking for new readers here, and it forms such a substantial strand of the series that will keep you speculating feverishly far beyond this volume and well into the next chapters beginning with KILL OR BE KILLED #15.
As to practicalities, we're most of us more capable than we imagine we are. Dylan is ruminative by nature – which is why it's taken two volumes to get to this point! – thinking things through, though not all the time with a clear head; that, he would be the very first to concede. Here he contemplates courage, and the nature of fear as something self-imposed as well as instilled in us through aphorisms and cautionary tales designed to curtail our curiosity or limit our ambition (Daedalus / Icarus and "A bird in the hand…" etc). We are persuaded to believe not in ourselves, but in our weaknesses, drawing lines in the sand which we dare not cross. But if others have crossed them – if one person can kill a grizzly bear – why cannot we?
He's forever referencing films, is our Dylan, and books. As I say, he's educated and it's his constant self-questioning which in part makes him so very credible and captivating, engaging his audience conversationally – for he is emphatically addressing each one of us – as to his various successes or failures in storytelling and whether we find him frustrating, which is funny. Here is he shown for umpteenth time breaking and entering into the brothel.
"Okay, so look, I promise you we're getting very close to this moment.
"By the end of this chapter… for sure.
"I mean, this is all part of that plan I was formulating….
"As you're going to see soon. Really soon.
"But before we get to this –
"And I know, I know, I'm the worst narrator in history for actually getting to the point…
"Well, maybe after Tristram Shandy…
"But there's just some stuff you have to know before the action gets going again.
"I mean, it can't all be action… right?"
Dylan's also unusually self-aware, constantly rummaging around in his own troubled memories and the physical boxes of published art which his father left behind, whilst musing on Kira's past as well as his father's sad life and suicide.
"I guess it's different for people whose fathers didn't commit suicide, but if yours did, then he's probably a fairly tragic figure in your memory…
"That familial memory that shapes who you are.
"That's how it always was for me. My father was legendary and tragic and sad… all at one time.
"And if I had to pick one word that described him best, it would've been a tie between "lonely" and "isolated".
Dylan has just described himself, and little wonder: "That familial memory that shapes who you are."
He's far from alone but lonely instead, isolated inside his own head. So often there are moments of hope that he will be able to free himself from the shackles of his pragmatic secrecy, this solitary existence, and steer freely away from the desperate trajectory which he has found himself locked on.
One of those is where we came in and he realises that "We stop noticing our miracles." Yet it's these very preoccupations which prevent Dylan from fully engaging and actually existing inside the moment, and those moments of hope do not last long.
All of that is conveyed in the art: in the cinema, for example, with Kira beaming while Dylan sits dead-faced, obsessing over his predicament. And that's after his supposed satori.
Thanks to Phillips and Breitweiser, Dylan is surrounded by so much arboreal beauty which he singularly fails to notice – even as he's strolling through Central Park with the love of his life, lit bright with laughter, which was formerly all that he craved – and it will only become more pronounced in the next volume.
It's not just that he fails to notice it, either: it is that he is entirely removed from its life-affirming balm by his inner demons – the psychotic shit that's going on his head – and by the very real danger that surrounds them both. That Kira is oblivious to the danger (because Dylan has repeatedly refused to communicate for fear of blurting out the rest) makes the gap between them loom even larger. He has built the proverbial brick wall.
Next volume: Dylan attempts to break down the brick wall down and in so doing, finds it built even higher.
Oh, wait…. The shooty bits…? Knock yourself out. Non-consecutive pages, mind, but Lord, how I love Sean Phillips gunfire.
Parenthetically, there's a very funny sequence in which a Russian courier clumsily attempts to flirt with a barmaid who may well be gay by solemnly impressing upon her the virtues not of Charles Portis's novel 'True Grit' (which is a tremendously compelling narrative told by a fourteen-year-old girl of exceptional fortitude), but of its cinematic adaptation which was a travesty, and in particular the manly magnificence of John Wayne's performance which… anyway. The sincerity on that man's face!
Kill Or Be Killed book four
"Is everything all right, Dylan?"
"No… not really. But it will be."
Will it?
It's the KILL OR BE KILLED finale from the creators of THE FADE OUT, FATALE etc, and if the penultimate chapter's cliffhanger is a narrative bombshell you couldn't possibly see coming, then the final-page punchline is a visual whose eyes will bore into your own so hard and so deep – meeting your gaze directly, unflinchingly – that I defy you to look away. For a full five minutes I studied those dense, shining shadows, sweeping black lines and broad colour brushstrokes, so bold that anything behind became even more ethereal. Then, almost as soon as I looked away to flick back through the preceding four pages which made so much sense, I had to return almost immediately.
I think that's the general idea with obsession.
And this all about obsession.
Up until now KILL OR BE KILLED has been the psychological self-examination of an educated young man with a gnawing sense of social justice but a fine line in convivial conversation as he descends into a surprisingly efficient mass murder spree.
That initial spree at least is all but over, though there's always room for one more, don't you think?
"Stairs are actually not that effective for killing people, in case you were wondering.
"Too many variables. You can never know for sure how someone's going to land…
"Or if they're going to break their neck."
You may have to step in and finish the business on foot.
"I get away with this, by the way."
The narrative is as charming as disarming as ever: even the chapter breaks (originally the ends to each monthly issue) add to the illusion of this being an off-the-cuff account.
"Shit, I completely forgot.
"Sorry.
"We'll have to talk about that next time."
In KILL OR BE KILLED VOLUME 3 I wrote about the disconnect between Dylan's wretched preoccupations and the beauty which surrounds him which he, cruelly, has no mental access to, and it is only accentuated further on the first two pages here.
It's something that comics can do ever so well under the right creators: when the words and the pictures 'disagree'. Jon Klassen has made a career out of this for comedic, Young Readers purposes. This is tragic instead.
Look at the exquisite silver livery on these idyllic snow-swept scenes and the rapture being relished by those able to fully inhabit those landscapes by being in the moment and sharing between them its gift!
Now read the words of a perceived grinding life and the fall of the world into geopolitical disorder. "Sad" doesn't begin to cover it. In volume three of KILL OR BE KILLED Dylan consciously castigated himself thus:
"I'd been so stupid… We're all so stupid all the time."
"We stop noticing our miracles."
Yet within that same volume he almost immediately failed to retain that self-knowledge. It wasn't wilful, it wasn't negligent. It was because he was trapped, in his own head and his immediate circumstances of needing to act or the love of his life would be dead. Now he is shackled once again, even further removed from this extraordinary, ordinary joy, and the windows through which he is looking are barred.
The cover may give you a clue, but only on reading this will you understand how he got himself sectioned. It has nothing to do with volume three whatsoever. This is an entirely new development, and, to begin with, Dylan is quite content to be locked up, for it means that the outside world should be safe from him.
It isn't. Nor is he, from what he has left behind him outside.
Expect Breitweiser blizzards so dense that they will all but obliterate your vision, which will give Dylan ample opportunity to talk about climate change, industry, government, and the war between wealth and accountability. It will also give the unexpected ample opportunity to sneak unseen upon the unwary.
Sorry…? Oh, you're halfway through this book and just remembered that sentence. You think I'm referring to that snow storm! Haha!
I'm not.
I've run out of time, but it's also worth studying all the different hair treatments throughout the series. Yes, hair!
Dylan's mother's is completely different from the others' not only in style but in its method of rendition, far closer to Kira's. Phillips goes to great lengths to draw identifiable, individual strands of hair for both women and men, whereas Dylan's mum's is lifted by mousse to look like a meringue or Mr Whippy.
What a note for finish on. Honestly.
SLH
Buy Kill Or Be Killed Deluxe h/c and read the Page 45 Review here
Luthor s/c (£12-99, DC) by Brian Azzarello & Lee Bermejo.
Lex
Luthor stares into space and broods about humanity being subject to the whims of a potentially untrustworthy alien being, whilst those around him – from employees in the form of construction workers to a cherished servant in the form of his own artificially created, female metahuman – find out what it's like to be subject to the bitterness of a decidedly untrustworthy human being.
Far more interesting for me than Azzarello's team-up with Jim Lee (SUPERMAN FOR TOMORROW), there are some credibly vocalised motivations, an ingeniously manipulated climax designed to discredit Superman through his own benevolent nature, and a tense stand-off through a plate glass window as Luthor stands way above the streets in his skyscraper tower, and Superman, floating outside, stares back. Hard.
This was the second time Azzarello and Bermejo had worked together on one of DC's top properties, the first being BATMAN/DEATHBLOW wherein Bermejo rendered a Gotham in almost permanent, smog-shrouded twilight, the third being JOKER which will have you wincing on the edge of your seat throughout
Here we join Lex Luthor as the sun sets over a futuristic Metropolis, sharpening its edifices' corners and reflecting off the glass of the vast monuments to man's imagination, aspiration and ingenuity. At the end of another long day Lex sits and chats with Stan the cleaner, as they gaze out across the skyline at the Metropolis Science Spire, the billionaire's latest project whose grand opening is due shortly.
Bermejo's expressions are quiet and subtle, Lex all delightful smiles, his brow only furrowing with concern when he learns that that Stan's son, though bright, is cutting classes. It's then that you see Luthor as a human being whereas Superman throughout the first chapter is depicted as volcanic, his eyes burning with the fire of a thousand foundries. Here's the beautiful Mona:
"The Von Raunch Academy's Benefit Ball is tonight. I'm going to present your very generous donation, and tell them that though you would have loved to be there, some matters came up and –"
"Hmm. That's that exclusive school, isn't it?"
"Well, if you mean by exclusive it hand-picks only twelve students for acceptance each year, then yes. It's exclusive."
"Right… an employee of ours has a son who I think merits inclusion in that twelve. Joey's a bright boy. Tell the Head Master I'd consider it a personal favour."
"I will, but next semester's class has already been selected. One of those children would have to be -"
"A personal favour, and I would be very grateful. Have a good time, Mona. Give everyone my best."
See, he's not all bad.
That scene is played to perfection – just like the reader.
SLH
Buy Luthor s/c and read the Page 45 review here
Arrived, Online & Ready To Buy!
New reviews to follow, but if they're new formats of previous books, reviews may already be up; others will retain their Diamond previews information we receive displayed as 'Publisher Blurb'.
Bicycle Day
(£20-00, Anthology Editions) by Brian Blomerth
The Books Of Magic (30th Anniversary Ed'n) s/c (£16-99, Vertigo) by Neil Gaiman & John Bolton, Scott Hampton, Charles Vess, Paul Johnson
Bunny vs. Monkey Book Six (£8-99, David Fickling Books) by Jamie Smart
Grass Kings vol 2 s/c (£13-50, Boom!) by Matt Kindt & Tyler Jenkins
H.P. Lovecraft's At The Mountains Of Madness vol 2 (£17-99, Dark Horse) by Gou Tanabe
Kill Or Be Killed Complete Deluxe Edition h/c (£44-99, Image) by Ed Brubaker & Sean Phillips, Elizabeth Breitweiser
The Legend Of Korra: Ruins Of The Empire Part Two (£9-50, Dark Horse) by Michael Dante DiMartino & Michelle Wong
Life Is Strange vol 1: Waves s/c (£13-99, Titan) by Emma Vieceli & Claudia Leonardi
Little Bird Book One: The Fight For Elder's Hope h/c (£26-99, Image) by Darcy Van Poelgeest & Ian Bertram
Looshkin: The Big Number 2 (£8-99, David Fickling Books) by Jamie Smart
Lumberjanes: The Shape Of Friendship s/c (£10-99, Boom!) by Lilah Sturges & Polterink
Middlewest vol 2 s/c (£14-99, Image) by Skottie Young & Jorge Corona, Jean-Francois Beaulieu
The Midwinter Witch s/c (£11-99, Scholastic) by Molly Knox Ostertag
Moomin by Lars Jansson: The Deluxe Slipcase Edition (£50-00, Drawn & Quarterly) by Lars Jansson
Some Strange Disturbances s/c (£8-99, Northwest Press) by Craig Hurd-McKenny & Gervasio, Carlos Aon
Spectrum 26 s/c (£35-99, Flesk) by various
Star Wars vol 12: Rebels And Rogues (£14-50, Marvel) by Greg Pak & Phil Noto
Star Wars: Age Of Resistance – Villains s/c (£15-99, Marvel) by Tom Taylor & Leonard Kirk
Swimming In Darkness h/c (£21-99, Arsenal Pulp Press) by Lucas Harari
Dceased h/c
(£24-99, DC) by Tom Taylor & various
The Death Of Superman: The Wake s/c (£14-99, DC) by Louise Simonson & various
Immortal Hulk vol 5: Breaker Of Worlds s/c (£14-50, Marvel) by Al Ewing & Joe Bennett
Journey To Star Wars Rise: The Rise Of Skywalker – Allegiance s/c (£14-50, Marvel) by Ethan Sacks & Luke Ross
Silver Surfer: Epic Collection – When Calls Galactus s/c (£35-99, Marvel) by Stan Lee & Jack Kirby
Jojo's Bizarre Adventure Part 4: Diamond Is Unbreakable vol 3 h/c (£12-99, Viz) by Hirohiko Araki
My Hero Academia Smash!! vol 2 (£6-99, Viz) by Hirofumi Neda
One Piece vol 92 (£6-99, Viz) by Eiichiro Oda
Avatar: Tsu'Tey's Path s/c (£17-99, Dark Horse) by Sherri Smith & Jan Duursema, Doug Wheatley
Beautiful Darkness s/c (£14-99, Drawn & Quarterly) by Fabien Vehlmann & Kerascoet
Heart Of Darkness h/c (£14-99, Norton) by Joseph Conrad & Peter Kuper
Milo's World Book 2: The Black Queen h/c (£17-99, Magnetic Press) by Richard Marazano & Christophe Ferreira
Rivers Of London vol 7: Action At A Distance (£13-99, Titan) by Ben Aaronovitch, Andrew Cartmel & Brian Williamson
Avengers vol 4: War Of The Realms s/c (£14-99, Marvel) by Jason Aaron & Ed McGuiness
Ms Marvel Team-up s/c (£15-99, Marvel) by Eve L. Ewing, Clint McElroy & Joey Vazquez, Ig Guara
Thanos: Zero Sanctuary s/c (£17-99, Marvel) by Tini Howard & Ariel Olivetti
X-Men: Epic Collection – Children Of The Atom s/c (£35-99, Marvel) by Stan Lee, Roy Thomas & Jack Kirby, Werner Roth, Alex Toth
Cardcaptor Sakura: Clear Card vol 6 (£9-99, Kodansha) by Clamp
League Of Extraordinary Gentlemen vol 4: Tempest h/c (£24-99, Knockabout / Top Shelf) by Alan Moore & Kevin O' Neill
Black Orchid s/c (£16-99, DC Black Label) by Neil Gaiman & Dave McKean
Gambling Apocalypse Kaiji vol 1 (£19-99, Den Pa) by Nobuyuki Fukumoto
Invader Zim vol 8 (£17-99, Oni) by various
My Heroes Have Always Been Junkies s/c (£11-99, Image) by Ed Brubaker & Sean Phillips
The Big Country s/c (£13-99, Humanoids Inc) by Quinton Peeples & Dennis Calero
The Seas (£5-99, Body Parts) by various
Daredevil vol 2: No Devils, Only God s/c (£14-50, Marvel) by Chip Zdarsky & Lalit Kumar Sharma
Mythical Beast Investigator vol 1 (£9-99, Seven Seas) by Keishi Ayasato & Koichiro Hoshino
A Tropical Fish Yearns For Snow vol 1 (£6-99, Viz) by Makoto Hagino
Attack on Titan vol 29 (£9-99, Kodansha) by Hajime Isayama