Featuring Philippa Rice, Paco Roca and Carol Isaacs…

The House h/c (£17-99, Fantagraphics) by Paco Roca.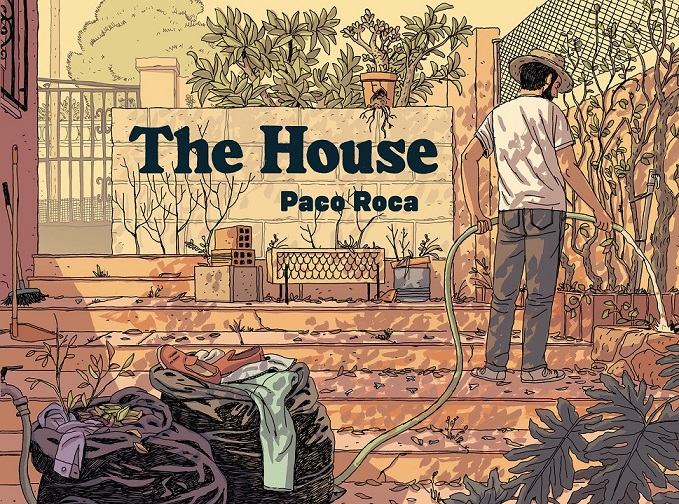 Dappled! Don't you just love dappled? I do!
This is dappled both inside and out, the shadows falling throughout, cast by thinning fig leaves in a low, late summer light or by bushier trees under a sun which sits much taller in the sky, earlier in the season and several decades ago, when the family's patriarch first bought the plot and then built the house. The shadow of his own presence looms large too.
Quiet and contemplative, two brothers and a sister gather with their spouses and reflect – together and independently – on their deceased father and his cherished holiday cottage that they too now have to tend to. In their father's absence, the titular house is still in possession of stunning views, but it's grown decidedly dilapidated without his constant pottering and maintenance.
When their Dad ambles back into THE HOUSE's narrative, each panel's like a postcard from the past, or a sunlit holiday photograph carefully mounted using those transparent triangular corners in an old landscape album.
Each sibling's approach to the grounds' restoration – and their reactions to those different approaches – is telling. Something is simmering below the surface, and has been since their dear dad departed. So while sweeping the leaves and cleaning the pool, the siblings disturb some previously unspoken emotional detritus too.
The arid environment could not play better to Paco Roca's love of texture shaded inside crisp, clean lines. There's the desiccated, deep-ridged bark of the larger trees which I can feel, thick, between my fingers; the stony ground they spring from, hard and knobbly under bare feet, and I don't think those leaves are deciduous.
The creator of WRINKLES is also a dab-hand at age, whether it's the slight stoop of shoulders on top of a less flexible back, perhaps the slight squint of the eyes in less forgiving lights, or the medium weight of a paunch.
I love this sort of generational exploration and enjoyed Cyril Pedrosa's rich, three-tiered PORTUGAL so much we made it Page 45's Comicbook Of The Month a couple of years ago. Families can usually be relied on for some fine, fraught tension followed by revelation, can't they!
Look at the tension in this silence!
Warning: reading this book may leave you wanting to put up a pergola, then grow some leafy vines.
Do you think they'll sell?
SLH
Buy The House h/c And Read The Page 45 Review Here
The Wolf Of Baghdad (£16-99, Myriad) by Carol Isaacs…
"There was
a very bloody and terrible Farhud (pogrom) in Baghdad in 1941. A large number of Jews were slain, raped and mutilated."
Before we begin, here's the publisher to give scale and context to that statement which only serves to make it even more disturbing and explain a little further about this work.
"In the 1940's a third of Baghdad's population was Jewish. Within a decade nearly all 150,000 had been expelled, killed or had escaped. Transported by the power of music to her ancestral home in the old Jewish quarter of Baghdad, the author encounters its ghost-like inhabitants who are revealed as long-gone family members.
As she explores the city, journeying through their memories and her imagination, she at first sees successful integration, and cultural and social cohesion. Then the mood turns darker with the fading of this ancient community's fortunes. The wolf, believed by Baghdadi Jews to protect from harmful demons, sees that Jewish life in Iraq is over, and returns the author safely back to London."
Given the current state of affairs in Iraq and the Middle East region generally it seems strange, perhaps, to consider that Baghdad was once a thriving, multicultural metropolis, including such a substantial Jewish contingent. But looking back it's clear that events such as the ones depicted entirely wordlessly here by Carol Isaacs clearly contributed towards the Declaration of the Establishment of the State of Israel by David Ben-Gurion on 14 May 1948, alongside of course the horrific events of the Holocaust in Europe. According to some additional information on the inside cover, there are now less than half a dozen Jews in remaining in Baghdad… You read that right, less than six. So the entire city was effectively ethnically cleansed of a third of its population.
Whilst being a little bit of a WW2 history buff myself, and being well being aware of Rashid Ali's turn away from the former colonial power of Britain (Iraq only gaining quasi-independence from Britain in 1932 so you can perhaps understand why there was lingering resentment from certain sections of the political establishment and general public) towards Germany and Italy, I certainly didn't know of the fervent Iraqi adaptation of the ideals of Nazism. Plus the shockingly rapid rise of antisemitism which seemingly wasn't particularly present, or at least visible, before then so explosively resulting in Baghdad's own version of Kristallnacht.
The second half of this work deals with the shocking fallout and consequences of those events, and they are as distressing as you would imagine. As the survivors silently walk us through their individual stories in moving vignettes of first disbelief, then survival, and finally escape, some to London where in fact this work opens. For the first half of this book is entirely different in tone, a vibrant celebration of Jewish life in a multicultural capital city. Baghdad that is, not London.
Each chapter, often merely two or three pages at a time, is prefaced by a portrait of the individual involved and a quote such as the one I chose for the opening above.
There's a wistful, romantically nostalgic quality to these fragments initially, simply recounting the happy stories of ordinary days and nights spent in perfect contentment in tight streets of Baghdad, living cheek by jowl with their Muslim and also Christian neighbours.
The wordless aspect very much ensures we feel we are present ourselves in the background, a silent observer, watching Carol herself pass through the myriad locations observing the lives of her family who are portrayed in slightly transparent almost spectral form.
It is as you might expect, knowing what emotional brutality is to come, an extremely haunting and moving approach.
The art itself, and I certainly don't mean this in a pejorative way, has a slight cartoonish aspect to it. In fact, given Isaacs also operates as the "well-known cartoonist published in the New Yorker, Spectator and Sunday Times" under the fabulous nom de plume of the Surreal McCoy it makes perfect sense. Stylistically I was at times minded of Simone FLUFFY / PLEASE GOD, FIND ME A HUSBAND Lia and Marjane PERSEPOLIS / CHICKEN WITH PLUMS / EMBROIDERIES Satrapi.
This work succeeds in being as much a celebration of what has been sadly lost as it is an important and ever-timely reminder as to how it can all too easily and rapidly happen again if we allow hate to get the better of us.
JR
Buy The Wolf Of Baghdad And Read The Page 45 Review Here
Baby: A Soppy Story h/c (Exclusive Signed Page 45 Bookplate Edition) (£10-99, Square Peg / Vintage) by Philippa Rice…
"Well, the midwife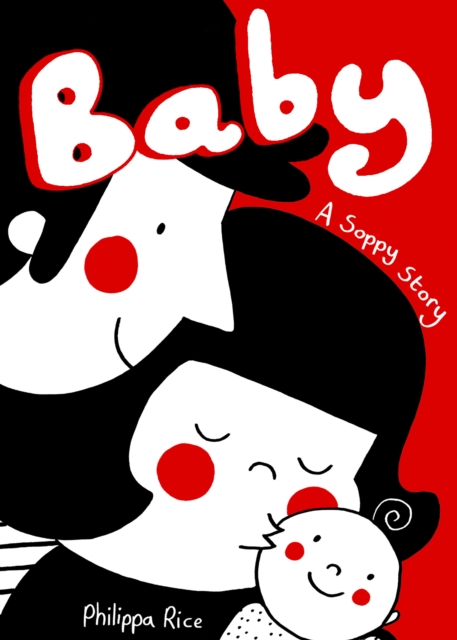 said there was no protein or glucose in my wee, so that's good?"
"What would it mean if there was protein and glucose in your wee?"
"That it would make a good sports drink?"
Haha! I can recall many such a nonplussed conversation between myself and Mrs. R along those lines where seemingly vital pregnancy-related information was conveyed to us by medical experts. The significance of which was then immediately entirely lost in translation… First-time parents, the very dictionary definition of clueless buffoons…
There's so much to chuckle at here, both pre- and post-birth, but I suspect you'll need to have endured the travails and triumphs of producing progeny yourself to fully appreciate how perfectly Philippa captures the absurdities of the whole affair. For example, I'm pretty sure every single set of neophyte parents has been through the consternation of the car seat farrago whilst preparing to leave the hospital ward with their precious charge… Here's Luke to demonstrate for the uninitiated / refresh your minds for those full versed in the torture.
"Why didn't we practise the car seat earlier?"
"I did! Just not with an actual baby in it."
Fair point! I remember all too well that feeling of total, overwhelming all-consuming fear as I fumbled at the straps of the car seat scarcely believing the foolish doctors were about to let two complete novices actually walk out with a child to look after…
Here Philippa recounts for us some of their own mini-rollercoaster hilarious highs and ludicrous lows first anticipating the arrival and then surviving the looking after of the lovely Robin.
I'm pretty certain every single couple might well have had the following bust up too…
"I'll take her downstairs and see you in an hour or so. Need anything?"
"Thanks, no, I'm okay."
"Maybe I'll get to have a lie-in one day."
"Excuse me?!"
Cue epic full page rant regarding birth, breastfeeding and so much more besides that our lovely ladies go through just to bear our children! You'd think the least us supportive spouses and partners could do would be not mention we might also be a teeny-weeny bit tired ourselves right?! Wrong! I remember feeling after seven months that I had fallen into what I can only describe as a Marianas Trench of tiredness… but in the game of competitive child-rearing tiredness I was only ever going to be a runner-up! (Sorry Joanna if you're reading this!)
Not that's it's all about the kids man! Far from it actually, for whilst the lovely Robin does eventually make her dramatic appearance and then we see her rolling and toddling her way even further into her parents' (and our) hearts thus begin to create a whole new love story, the majority of this work is still about Philippa and Luke's own.
I absolutely adore how Philippa manages to (remember for a start!) capture these little moments of mirth perfectly amidst the new child-enhanced level of chaos. This was one of my personal favourites, and again, could have been directly lifted from the Rigby household…
"I think we need to throw this Pepsi away. It's gone flat."
"No! Don't throw it away! I'll drink it."
"Okay… use your body as a bin."
For more soppiness, don't forget the original SOPPY love story!
For more Philippa Rice, please see also ST COLIN AND THE DRAGON, SISTER BFFS, WE'RE OUT and the SOPPY JOURNAL.
JR
Buy Baby: A Soppy Story h/c (Exclusive Signed Page 45 Bookplate Edition) And Read The Page 45 Review Here
Arrived, Online & Ready To Buy!
New reviews to follow, but if they're new formats of previous books, reviews may already be up; others will retain their Diamond previews information we receive displayed as 'Publisher Blurb'.
Fiction (Signed & Sketched In)
(£2-99, ) by Andi Watson
Haunted (Signed & Sketched In) (£2-99, ) by Andi Watson
Muse (Signed & Sketched In) (£2-99, ) by Andi Watson
My Demons (Signed & Sketched In) (£2-99, ) by Andi Watson
Twelfth Prince (Signed & Sketched In) (£2-99, ) by Andi Watson
Tamba: Child Soldier h/c (£22-99, NBM) by Marion Achard & Yan Degruel
Hicotea: A Nightlights Story h/c (£14-99, Nobrow) by Lorena Alvarez
Doctor Who: The Thirteenth Doctor Holiday Specials vol 1: Time Out Of Mind s/c (£13-99, Titan) by Jody Houser & Roberta Ingranata, Giorgia Sposito, Valeria Favoccia
Resonant vol 1 s/c (£15-99, Vault) by David Andry & Alejandro Aragon
Lucifer vol 2: The Divine Tragedy s/c (£14-99, Vertigo) by Dan Watters & Max Fiumara, Sebastian Fiumara, Kelley Jones, others
By Night vol 3 s/c (£10-99, Boom! Studios) by John Allison & Christine Larsen
The October Faction vol 2 s/c (£17-99, IDW) by Steven Niles & Damien Worm
The October Faction vol 3 s/c (£17-99, IDW) by Steven Niles & Damien Worm
The October Faction vol 5 s/c (£17-99, IDW) by Steven Niles & Damien Worm
Valkyrie: Jane Foster vol 1 – The Sacred And The Profane s/c (£15-99, Marvel) by Al Ewing, Jason Aaron & Cafu, others
X-Men Milestones: Onslaught s/c (£35-99, Marvel) by various
Demon Slayer vol 5 (£6-99, Viz) by Koyoharu Gotouge
Demon Slayer vol 6 (£6-99, Viz) by Koyoharu Gotouge
Dr. Stone vol 9 (£6-99, Viz) by Riichiro Inagaki & Boichi
My Hero Academia: Vigilantes vol 6 (£6-99, Viz) by Hideyuki Furuhashi & Betten Court
Absolute Swamp Thing vol 1 h/c (£89-99, Vertigo) by Alan Moore &Stephen Bissette, John Totleben, Rick Veitch, others
Aliens: Rescue s/c (£17-99, Dark Horse) by Brian Wood & Kieran McKeown
The Collected Toppi vol 3: South America h/c (£22-99, Magnetic Press) by Sergio Toppi
J & K h/c (£34-99, Fantagraphics) by John Pham
Lincoln Highway 750 s/c (£11-99, NBM) by Bernard Chambaz & Barroux
Nils – Tree Of Life h/c (£26-99, Magnetic Press) by Jerome Hamon & Antoine Carrion
The Perry Bible Fellowship vol h/c (10th Anniversary Edition) (£22-99, Dark Horse) by Nicholas Gurewitch & The PBF
Sea Of Stars vol 1 s/c (£13-99, Image) by Jason Aaron, Dennis Hallum & Stephen Green
Year Of The Rabbit (£22-50, Drawn & Quarterly) by Tian Veasna
Avengers vol 5: Challenge Of The Ghost Riders s/c (£14-50, Marvel) by Jason Aaron & Stefano Caselli
Black Widow: Widowmaker s/c (£35-99, Marvel) by various
Friendly Neighborhood Spider-Man vol 2: Hostile Takeovers s/c (£15-99, Marvel) by various
Wolverine: The End s/c (£14-50, Marvel) by Paul Jenkins & Claudio Castellini
Aposimz vol 4 (£11-99, Vertical) by Tsutomu Nihei
Persona5 vol 1 (£6-99, Viz) by Hisato Murasaki
Pokemon Adventures vol 11 (£6-99, Viz) by Hidenori Kusaka & Satoshi Yamamoto
Pokemon Adventures vol 12 (£6-99, Viz) by Hidenori Kusaka & Satoshi Yamamoto
Pokemon Adventures vol 13 (£6-99, Viz) by Hidenori Kusaka & Satoshi Yamamoto
Pokemon Adventures vol 14 (£6-99, Viz) by Hidenori Kusaka & Satoshi Yamamoto