Links to New Releases and more underneath!

Andi Watson's The Book Tour is a deft masterclass in visual and linguistic caricature, each bookseller an eccentric delight in their own right.

– Stephen on Andi Watson's The Book Tour. I mean, obviously.

The Book Tour (Page 45 Exclusive Signed Bookplate Edition) (£22-99, Top Shelf) by Andi Watson.
"I don't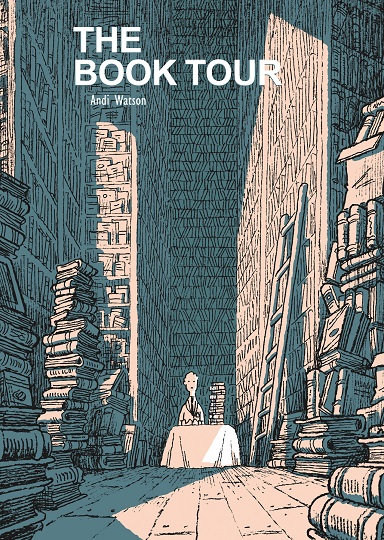 alphabetise. I'd rather customers explore. They come in looking for Byron and leave with an illustrated history of the Prague sewer system."
Five decidedly odd bookshops lie on the immediate itinerary of minor English author Mr. Fretwell's grand tour of Europe. Unfortunately no one is turning up. Eventually, you'll find out why.
What a phenomenal cover! What a Babel of books!
What an eye-drawing sense of shadowed space and low, looming light which creeps up from outside on our baffled and blinking protagonist! There Mr. Fretwell sits in tiny, silent solitude, patient but vulnerable and dwarfed by an infinite cathedral-like height which is worthy of Schuiten himself!
He only wants to sign copies of his new novel.
"I'm afraid I'm not quite feeling myself."
Everyone keeps banging on about this being Kafka-esque – probably because that sounds ever so cool and anyway the last critic did it and although you've never read Kafka it must be right, right…? Well, there's a hint of it here and there; but a more careful reading reveals that this is pure early-to-mid Evelyn Waugh, satirising not bureaucracy but quack psychiatry, wonky police procedure, inflammatory mob gossip and the book retail and publishing industries with all their attendant vagaries, fickleness, professional incompetence and casual disregard for anyone who can't immediately further their own fortunes.
Andi Watson's THE BOOK TOUR is a deft masterclass in visual and linguistic caricature, each bookseller an eccentric delight in their own right. It has so many more Waugh hallmarks from a narrative and thematic structure so tightly fitting that it could only have been created by comics' equivalent of a carpenter or architect like Chris Ware, quick-fire conversations leaving the protagonist no better informed, marital distance followed by disintegration, minor recurring characters whose fortunes oscillate off-camera as a direct consequence of Mr. Fretwell's own, and an entirely innocent and well meaning but weak, naive and hapless protagonist helplessly buffeted both by those more brutal than himself and events entirely outside his own control.
Add in a little Paul Auster (although Waugh did it too in 'A Handful of Dust') and you've a man increasingly lost, both to himself and to the world – or, perhaps, blessedly freed from it.
I could point out with precision each and every parallel between Waugh and Watson, but that's hardly the point. The point is this: THE BOOK TOUR is priceless. It is too, too funny – otherwise it'd be terrifying, and its early home sequence is a masterful foreshadowing of the ever-increasing isolation to come.
Perhaps the Kafka-centric critics confused THE BOOK TOUR'S literary style and thematic content with its visual execution of grainy lines which does indeed nod east…but towards 1920s German Expressionist cinema. Most obviously, the prologue sweeps us slowly through the old quarters of a deserted European city late at night or in the early hours of the morning, until we spy through an arched passage a silhouette moving silently through the angular-shadowed streets. Eventually he pauses, and deposits on the cobbles an old battered suitcase… before disappearing into the black horizon.
More importantly, what the washed-out effect of overexposed early cinema also achieves is a pervading sense that there is nothing of substance to hold onto: that one is in constant danger of coming unanchored and left to drift away at only the tide's discretion.
Let's start in the middle.
"Hungry?"
"Famished."
"Then you've come to the right place. The food's no good, but there's plenty of it… Not cheap, either."
As our ever-imposed-upon Mr. Fretwell will inevitably find out.
He's being taken out to lunch at a critical juncture in his unaccompanied book tour not by his publisher as promised (from whom a befuddled Mr. Fretwell might finally find answers), but by some ineffectual minion, unqualified for the job, sent in the elusive publisher's stead, both of whom would rather be doing absolutely anything in the world other than attending to their immediate responsibilities.
"Can I be honest with you?"
"Certainly."
"This was dropped in my lap at the last minute. Not that it isn't enjoyable. The thing is, you see, I'd already planned to have drinks with a lady friend of mine."
"Lady friend?"
"Precisely. I knew you'd understand."
And off he goes.
Poor Mr. Fretwell has been out to lunch for a while now, and it's a pea soup partly of his own unfocussed making. If he fails to pay attention, he'll be taken to the cleaners next.
Following the publication of his latest novel 'Without K' Mr. Fretwell has been dispatched on tour by train with a printed itinerary but without any back-up, his sole company being a suitcase full of his own freshly printed books. This is immediately stolen from under his nose by a thief whom Mr. Fretwell mistakes for a helpful if unscheduled contact. No matter, you might think, until Mr. Fretwell dutifully reports the theft to the local constabulary and so finds himself – a little further down the line – the prime suspect in the hunt for a missing person.
This is Rebecca (two 'c's, without a 'k' – just like Mr. Fretwell's equally absent wife), who's been left in sole charge of Mr. Fretwell's first signing to which he hurriedly races, through the rain, straight after leaving the police station.
"Sorry I'm late. And damp."
"Perhaps I can find you a towel."
"Don't worry about that. I don't want to keep anyone waiting."
There's no one to keep waiting.
"I don't understand it. We had a signing yesterday and it went really well."
That would be for one F.P. Guise, author of 'Sierra Umbra', as diligently advertised in the book shop's window.
"It's never happened to me before."
"The weather might have had something to do with it. Isn't that typical? The rain's stopped."
Although Rebecca's dining out that night on a mysterious, last-minute assignation, Mr. Fretwell's not offered a meal. But at least he won't get wet again, plus there'll be room service at his appointed hotel, once he's found it.
"I have a habit of getting lost."
It's not a bad hotel, either, with a decent room, phone service and breakfast to which his morning paper is delivered. This means our writer can get some rest, contact his wife, ask about his son, and keep himself vitally abreast of all the latest news. Mr. Fretwell reads the newspapers most assiduously! Well, the review sections, at least.
No one's reviewing his new book, though. Like everyone else, they seem much more interested in F.P. Guise: "a startling new voice".
Gradually, throughout Mr. Fretwell's travels and travails, a pattern will emerge and begin explaining itself… I'm afraid it's not a very fortuitous one.
It's one of incremental degradation ("the condition or process of degrading or being degraded"; geologically speaking, "the wearing down of a rock by disintegration") and it will impact on all aspects of the above, from the worsening condition of his hotel rooms, his scarcer ability to stay in touch (we never see Mr. Fretwell's wife: to begin with he talks to her through a closed door, then down the telephone, and he only hears about his son from her), his increasingly, hilariously thwarted opportunities to eat, and his diminishing access to a decent newspaper – or its review section, at least.
"Don't you read the papers, Mr. Fretwell? There's a predator on the loose. They're calling him the suitcase killer…"
"I only read the arts pages."
And because we've only been following Mr. Fretwell's movements and observations, we've only been reading the arts pages too. While more immediate events have been brought to boiling, we've all of us been out of the loop – clever, that.
THE BOOK TOUR is screamingly clever, as you'd expect from Britain's Andi Watson (please see our Andi Watson Graphic Novels and Andi Watson Mini-Comic Collection sections), including the parallels between the fortunes and fiction of Mr. Fretwell who is hilariously inept at hand-selling his own work.
Still, eventually he'll attract some attention.
"We'd like to ask you some questions."
"Oh, you're from the Literary Review?"
"We're police, sir."
THE BOOK TOUR is Page 45 Comicbook Of The Month for January 2021. Andi Watson's LITTLE STAR was our first. Let's see that back in print, please!
SLH
Buy The Book Tour and read the Page 45 review here
Kerry And The Knight Of The Forest (Page 45 Exclusive Signed Bookplate Edition) (£9-99, Penguin Random House) by Andi Watson.
"I fear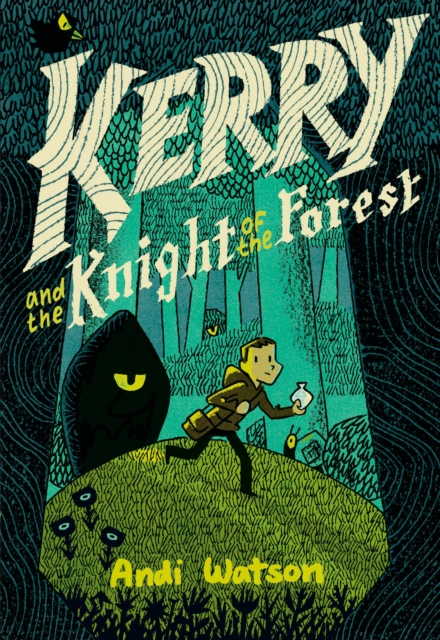 your trust in others will be your undoing."
Ooooh…!
So speaks the monocular floating Waystone of the cover, the self-styled Knight of the Forest and the very last of his kind.
He has observed that young Kerry's most courageous quality is to invest a little kindness and compassion early on, even in those whom others deem a threat, and who seem to have acted with overt hostility towards Kerry himself. It's an act of faith on Kerry's part which so often overrides his well-founded fear.
Kerry hopes for the best; the Waystone fears the worst.
But I'm afraid that you must find out for yourselves which one is proved right…
Page 45 FAQ: "What more would I fall for if I adore Luke Pearson's HILDA?" Answer: This! This, this, this! Oh, so very much this!
The imagination on display and the spectacle on offer are both phenomenal!
Kerry is racing frantically home through golden fields with a satchel full of medicine to cure his ailing parents, but is lured into a vast and all but impenetrable, shadow-stricken forest by the yellow glow of a girl and the prospect of a desperately needed shortcut. Almost instantly Kerry is lost in its overgrown briar tangles, the spectral girl leaving nothing behind except a hand-held mirror.
But it's upon helping a screaming snail escape the claws of a ravenous crow that Kerry's woes really begin.
From Andi Watson, the creator of adult fiction THE BOOK TOUR, and DUMPED, all-ages GLISTER and so much more (please see our Andi Watson Graphic Novels and Andi Watson Mini-Comic Collection sections), KERRY AND THE KNIGHT OF THE FOREST is a belter of a book for anyone aged roughly 7 to 12 – or ever so slightly older in my case.
At over 250 full-colour pages before you even get to the activity pages, the multiple mysteries at the heart of what's happened to render both this forest and its denizens so very treacherous are given all the room that you could hope for to be explored in their interconnected depths.
Key words: interconnected, mysteries, multiple, heart, treacherous. I don't type these words randomly, you know. These days, I rarely review at all! When I do, it is Because a Book is Important.
The design is delicious, with angles, shapes, colour, light and long, long shadows providing far more than atmosphere, but narrative cues too, with sudden striking shifts in each denoting imminent danger.
Birds, spiders, bushes and bats… every beast lurking within is monocular. That's immediately alien and unsettlingly "other" because two eyes is the very minimum requirement you'll encounter in nature outside Greek Mythology (and its Cyclops wasn't exactly the most endearingly well-behaved host). Until you've attempted to create nuance on the page with anything fewer than two orbs then you might not understand the problems it poses for any artist brave enough to attempt this – their juxtaposition, in harmony or otherwise, is everything – yet astonishingly Watson wrings maximum narrative expression from every single eye.
But let's cut to chase and get back to the hunt, for Kerry's multiple trials run from tricky navigation, astute observation and ingenious problem solving to close-quarter combat. Far more central to Kerry's success, however, will be the moral choices he makes. Temptations lurk around every corner, and not just for our plucky protagonist.
Now, where did we come in? Ah yes, Kerry's compassion.
"You would feed yourself to the wolves if you heard their stomachs rumble."
Some people's censures, in my experience, are the greatest compliments in the world.
SLH
Buy Kerry And The Knight Of The Forest and read the Page 45 review here
Paris 2119 h/c (£22-99, Magnetic Press) by Zep & Bertail.
"I love the Metro…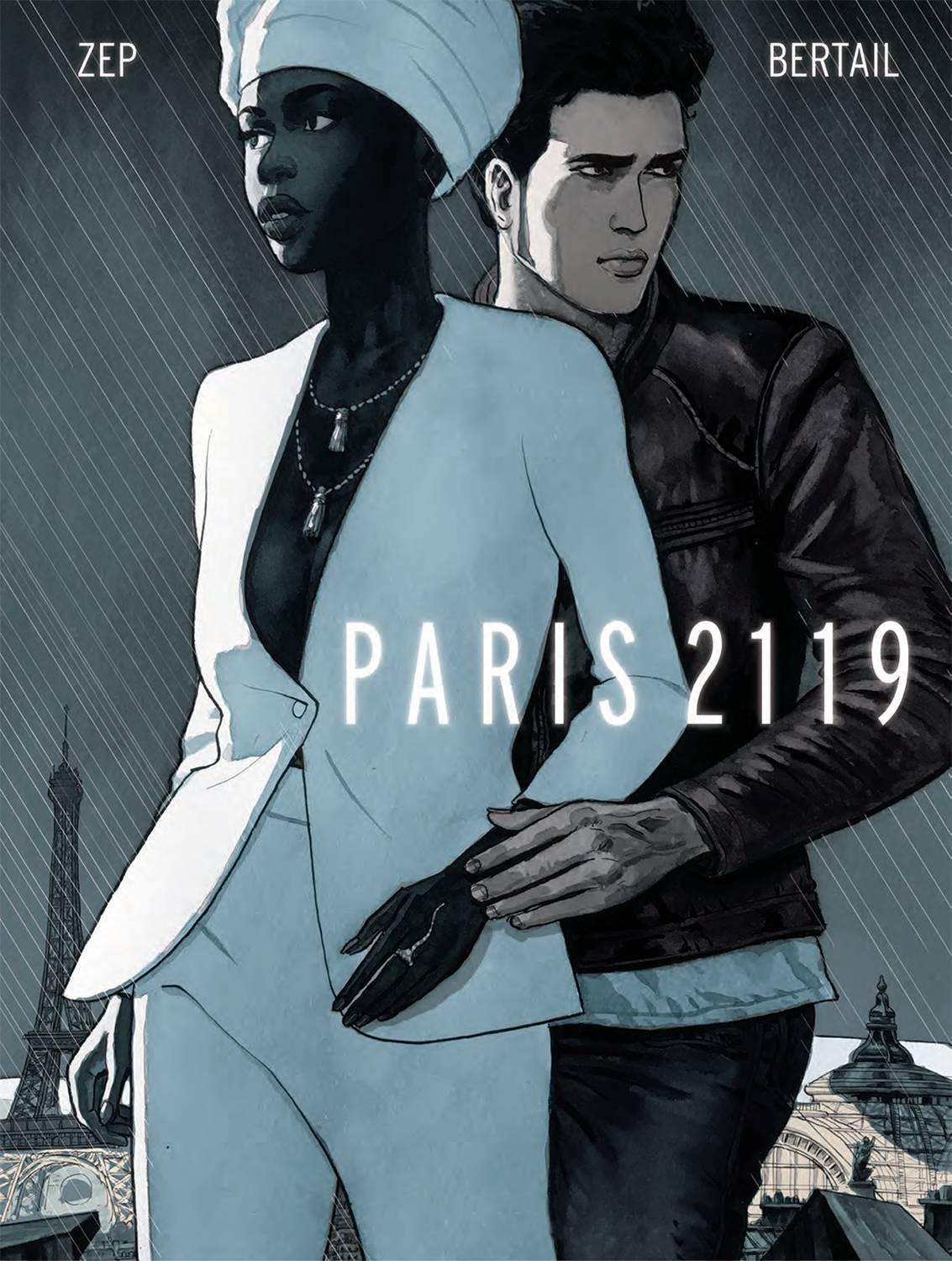 "The slowness… the darkness…
"The smell of burning wood and rubber.
"No one travels like this anymore. Except the odd tourist.
"No one travels physically anymore, really…
"Not since that damn Transcore."
My, isn't DeForest Kelley looking all young, hip and smoulder-y these days? You just wait until he gets his kit off!
That isn't something which I ever expected to type.
It's actually Young Parisian and audience-seeking writer Tristan Keys, but not since Star Trek's scowling curmudgeon Dr. McCoy has someone railed against teleportation so cantankerously. Tristan even brings his gripes home with him to calm Kloé, a far more pragmatic professional who needs to travel, worldwide, to meet clients for the Network; so she slips into the nearest deluxe Transcore teleportation cabin, lies back, and pops out in Beijing. Tidy!
I find myself falling into both camps. I adore walking to work every morning, crossing the River Trent then strolling down its Embankment between trees, admiring the light through the leaves up above…or kicking them if they're crisp and senescent and no longer part of the summer canopy. On the other hand, give me the option of an instantaneous Transcore trip straight home some dark winter nights and – You understand me, right…?
Let's listen in on Tristan again, if only so that I can type a little more monologue to emphasise that all our copies are English-language – unlike the illustrations I've found online.
"People don't like the rain…
"People don't like going outside…
I'm definitely down with Tristan now. I love the rain. And I'd sure as each Spring spend as much of my time as possible strolling outside if it took me via the Arc de Triomphe… and locals were walking their anteaters… while a virtual shark circles in the suddenly sunny blue sky.
Did you notice Tristan slipping under a prism of light, there, into much more clement, metereologically controlled conditions? Such "spotlights" are dotted all around town. They're gorgeously rendered by Bertail who's put even more into this graphic novel than his exquisite delineation, resulting in Zep having to rewrite key sequences which weren't anywhere near the thumb-nail sketches accompanying his original script. Including the climax!
Bertail has even totally re-imagined Tristan himself from Zep's more perfunctory, drab rendition. If that version got his kit off, I'd probably look away. No, it's a true back-and-forth collaboration between creators which has resulted in something infinitely more slick and satisfying than a story which could otherwise have been a little bit thin underneath.
Because (bear with me here, please) the weather prisms, sadly, aren't really explored and form no integral or even extraneous part of the plot: that all centres squarely and unfairly with the teleportation system – nigh-universal but for some malcontents seemingly in love with the Channel Tunnel – which Tristan begins to witness going awry. On the Metro he bumps into a seemingly drugged-up or zombified version of someone he later meets if not in prime condition, then at least coherent and sober. Then Tristan spies something far more alarming in action: the police's immolation, right under his nose, of someone staggering, dazed, from her teleportation capsule.
And this is where Zep's script triumphs, for it is a glorious misdirection in a way that I cannot possibly explain without alerting you to the true, suppressed secret behind everyone's new favourite method of transport. In terms of teleportation, I've never seen this posited before, and it's brilliant.
PARIS 2119 may not be as meaty as Morvan & Wei's exquisitely Baroque, retro-futuristic ZAYA, but it's perfectly weighted for its 70 pages plus extensive, illuminatingly annotated process-piece back-matter.
Plus the punchline – foreshadowed while I wasn't watching – pays off.
As well as the truth, there's a joke in that sentence, but you'll only get it if you buy the book.
SLH
Buy Paris 2119 h/c and read the Page 45 review here
Brand-New Arrivals: Comics & Graphic Novels
Wednesday 12th January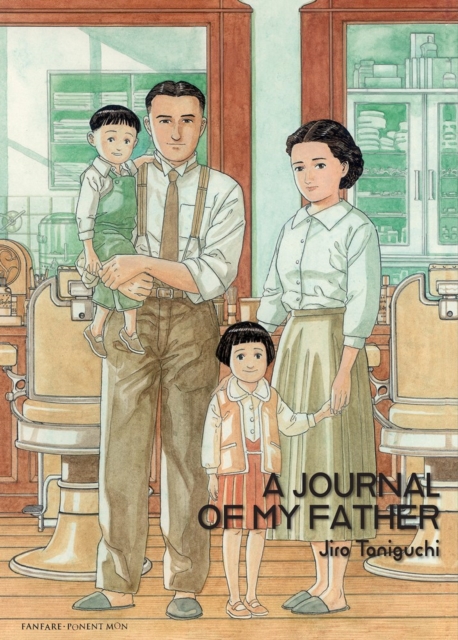 2021 is truly slim pickings! There are normally two dozen or so!
Still, it does contain the brand-new Jiro Taniguchi!!! My all-time favourite Japanese comicbook creator! Please click on older covers in our Jiro Taniguchi section for all our reviews!
Page 45 New Graphic Novel Arrivals is a permanent link, updated every Wednesday morning which you can use any week to see what's new. Click on any of the covers for publisher information and to purchase, perchance.
Page 45 Graphic Novels Week By Week is where you can catch up on previous weeks' releases. Simply click on any given date there for a similar grid of graphic novel covers. Click on any of the covers for publisher information and to purchase, perchance.
We're looking into backdating that further to incorporate all new releases since the last Page Blog,
Page 45 Blogs is where you read all our previous blogs – scroll back a dozen years if you fancy! They used to be weekly, but 2020 was very patchy – for almost everyone in every conceivable way.
And, hey, Page 45 Comic Book Of The Month is where you can catch up on all our selections over the last 15 years or so, read all our reviews of those graphic novels by clicking on their covers in the main grid below latest large cover, and indeed read more about Page 45 Comic Book Of The Month, and even sign up online. Neat!
Finally, Page 45 New Comics… should be self-explanatory once you get to that page.
Here's wishing you an infinitely happier 2021 than 2020!
Cheers,
Stephen