Featuring Jaime Hernandez, Guilherme Petreca, Joe Todd-Stanton, Terry Moore, Jiro Taniguchi, Joe Casey, Benjamin Marra

A Mouse Called Julian h/c (£11-99, Flying Eye Books) by Joe Todd-Stanton.
"But
Julian didn't know that he was being watched."
Watched by a fox!
One giant eye gazes out from the undergrowth as young Julian returns home with the blueberries he's gathered, oblivious to the fact that he's led this hungry predator right to his door!
I do relish a reprise, and that is a sentence which will be returned to much later on, with not one but two whiplash surprises, one almost immediately after the other, which will leave you and your Young Ones breathless!
From Joe Todd-Stanton, the creator of Page 45 best-sellers ARTHUR AND THE GOLDEN ROPE and MARCY AND THE RIDDLE OF THE SPINX, comes yet another drop-dead gorgeous graphic novel / picture book that will once again lead shining eyes right round the pages in search of exquisite, half-hidden details like the unexpected furnishings of Julian's burrow and the wider subterranean lives of his fellow underground occupants.
All of this comes furnished with the most natural of woodland and pasture colours in earthy browns, warm orange and dark or gleaming greens, printed on each page with the exceptional production values which you've come to expect from the Flying Eye imprint of Nobrow Books.
As to those underground occupants, they're a bit of a bother to self-contained Julian.
"Julian had lived on his own for as long as he could remember, and that was the way he liked it.
"All the animals above ground tried to eat him.
"And all the animals below ground got in his way."
Well, it can all grow quite cramped and crowded. Above ground, he's become a bit of an expert at dodging dogs, cats and hungry barn owls while foraging in the fields in order to return safely home.
"But Julian didn't know that he was being watched."
Oooooh! This is the first time we hear that, as Julian opens his secret trap door, gazing diligently around, but in all the wrong directions!
"That night, the fox crept up to Julian's house, and using all of his skill and cunning… smashed right through Julian's front window."
Hmmm… A bit low on the cunning front, that. And the fox hasn't really thought things through.
"The fox bared his teeth…
"And howled and growled…
"But he couldn't quite reach Julian.
"The fox was well and truly stuck!"
That's a delicious pair of pages: first there's the fox's gigantic, snapping, rapacious jaws so confidently close to victory with tiny Julian cowering below in his old leather boot-bed, the reader's eyes focussed on the peril by the spotlight shone through the window; then, opposite, comically, we're treated to the foolish fox's sudden "uh-oh! " realisation of the rashness of his action in a pan-back that reveals his hind quarters up-ended in mid-air without either purchase or dignity, our eyes again drawn there by his alarmed, backwards-looking eye.
"Pardon me, but would you be so kind as to help me out?" asked the fox.
Eyes, closed, all innocent-like.
"Help you?" yelped Julian, "You just tried to eat me!"
"Of course I didn't. I was simply popping in to see if you were OK," lied the fox.
Sounds perfectly plausible to me!
"I'm not OK at all! Your big head is in my house!" said Julian.
"Well, if you help me, I promise you will never see or my big head again," pleaded the fox.
Now, my lovelies, would you trust that fox, the traditional trickster of the animal kingdom, and specifically the one who has just blithely lied to your tiny, whiskered face…? The one who has never once before popped in to see if you were doing okay, but instead has a prior history of attempting to eat you…?
Well, you're in for a fair few surprises!
You really are!
To begin with, however, the question is rendered irrelevant, for although Julian doesn't want those great big eyes staring into his house and is even more averse to those great big, pointy teeth so close to his nose, the fox is enormous and Julian is no more than a mouse. So try as he might, Julian cannot shift the russet one's great big behind – it simply will not budge.
Then something heart-warming happens.
"When it got to dinner time, Julian couldn't bear to watch the fox's sad, hungry eyes.
"So he shared what he had and they talked and ate long into the night."
But, best beloveds, that's merely the beginning, for we've yet to encounter the reprise!
What will happen when they wake up in the morning, then go about their respective routines?
One is a hunter, the other is a gatherer. And the gatherer is always being hunted.
"But Julian didn't know that he was being watched."
Shadows and focus; darkness and light.
The richness of emotional experience which Joe Todd-Stanton offers here is not necessarily obvious. While many picture books render as much as possible in the brightest of colours and the shiniest of tones to please both parents and progeny with their immediate feel-good factor which I do not disdain, this is printed on matt paper instead with a firm, focal, candle-lit warmth on the central, pivotal, double-page spread which celebrates the generosity of sharing food… but on either side we experience an extraordinary and unexpected wealth of darkness and light both between contrasting pages and within the same panels.
This keeps us guessing as to motives, and makes one anxious when it comes to outcomes.
And this is as it should be.
Gripped, from start to finish!
SLH
Buy A Mouse Called Julian h/c and read the Page 45 review here
Ye s/c (£17-99, Top Shelf) by Guilherme Petreca ~
"Don't be afraid!
"Keep your heart light.
"Very good!"
It's a late summer day and the whole village is toiling away in the fields. Well orchestrated, they harvest the crops in harmony; all rather idyllic under the calm, clear skies. That is until a demon makes its presence in the form of an old warplane, filling the sky with the most tremendous rumble and turning it from calm blue to a dispiriting inky grey. A bomb is released as the villagers watch on in terror, and before their eyes it takes a ghastly transformation into a crow, landing atop Ye's house with delicate footing and a deadly screech. He clutches his chest and falls to the ground, exhausted and limp. He has caught the king's breath.
Now the journey of a lifetime must begin. The only person able to help him is Incredible Miranda the Healer, or the "old witch" as she's more locally known. The only items to help him along his way are a poster of the healer and a single black feather dropped by the crow.
The artwork is textured and delicate, with so many glorious little details you will want to spend a few extra moments poring over the pages to let your eyes drink in everything they have to offer. Though the (somewhat dreadful, frankly) cover doesn't allude to it, the lines and colour palette within are far softer and embracing.
In terms of breadth of storytelling I was reminded of Isabel Greenberg's THE ENCYCLOPEDIA OF EARLY EARTH; also with the artwork inside and costume designs, but particularly with the poster of Miranda the Witch.
Though small in size, this is a story that packs a punch. Younger readers will be swept away by Ye's epic adventures through crowded cities, pirate-riddled oceans, and even a tundra that an eccentric clown calls home. While more mature readers will see Ye's adventures for what they really are. On the surface, a journey for the ages to be loved by all, but just below is a powerful tale of a personal battle against something dark and intangible.
"The Colourless King exists inside all of us, slumbering"
And we will not be defined by our demons.
JP
Buy Ye s/c and read the Page 45 review here
Love & Rockets: Is This How You See Me? h/c (£17-99, Fantagraphics) by Jaime Hernandez…
"Part of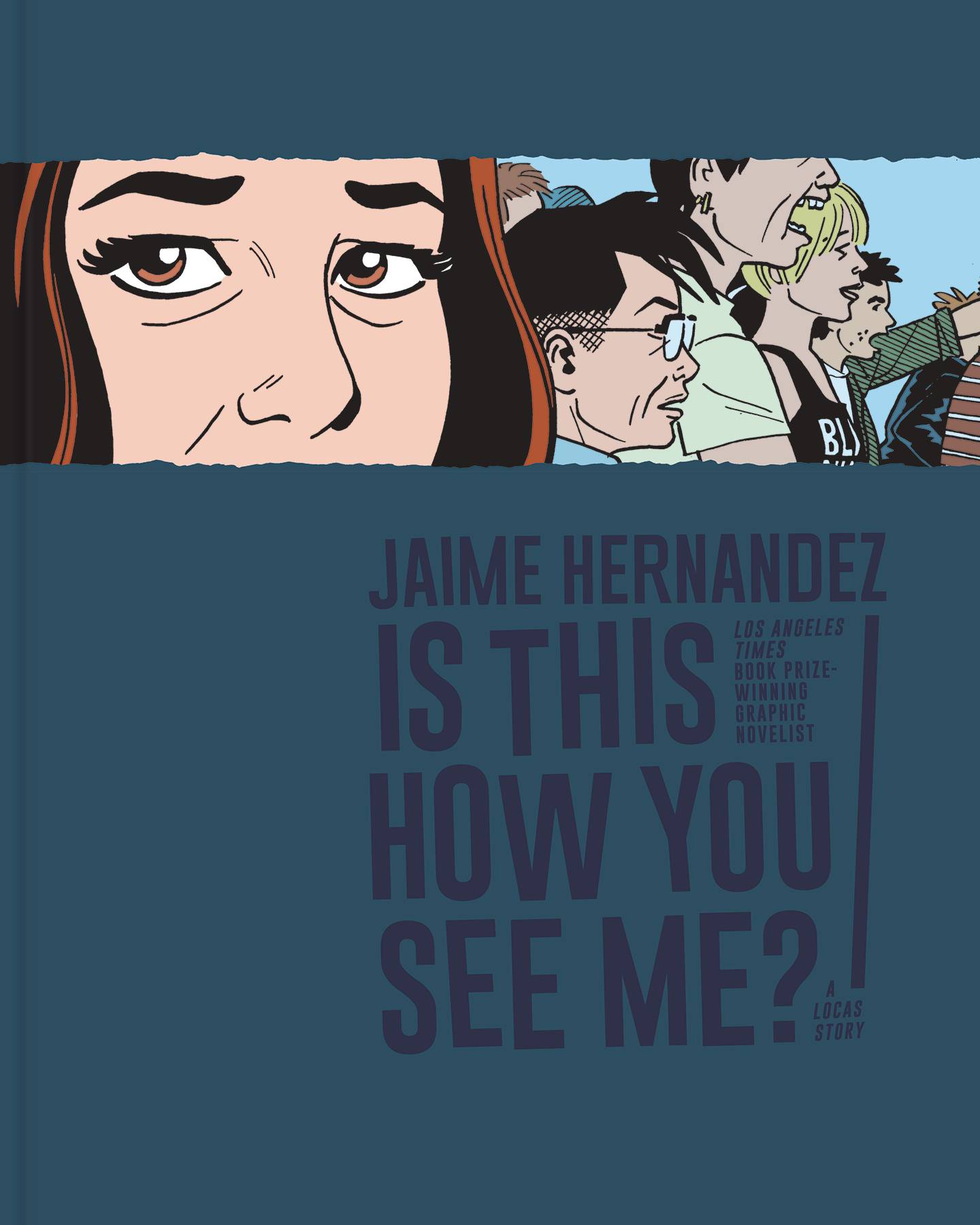 me hopes he'll never know about any of it nor all the other stupid crap I've done in my life."
"None of us is perfect, Espy… I believe a person has a right to keep parts of their life to themselves if it doesn't hurt loved ones… but also so it doesn't hurt loved ones… something that remains your own even when… even when…"
"When you move on? I'll buy that."
Except many of us can't move on and we're still buying it.
LOVE AND ROCKETS, that is! I could try and explain more, but actually the Fantagraphics hypewriter has pretty much perfectly captured the essence of this bittersweet comics symphony. So I'll simply let them introduce what has already become one of my favourite ever LnR stories…
"In IS THIS HOW YOU SEE ME?, Maggie and Hopey get the band back together – literally. Now middle-aged, they leave their significant others at home and take a weekend road trip to reluctantly attend a punk rock reunion in their old neighbourhood.
The present is masterfully threaded with a flashback set in 1979, during the very formative stages in Maggie and Hopey's lifelong friendship, as the perceived invincibility of youth is expertly juxtaposed against all of the love, heartbreak, and self-awareness that comes with lives actually lived.
The result is no sentimental victory lap, however – this is one of the great writers of literary fiction at the peak of his powers, continuing to scale new heights as an artist. Hernandez's acclaimed ongoing comics series LOVE AND ROCKETS has entertained readers for over 35 years, and his beloved characters – Maggie, Hopey, Ray, Doyle, Daffy, Mike Tran, and so many others – have become fully realized literary creations.
IS THIS HOW YOU SEE ME? collects Hernandez's latest interconnected vignettes, serialized over the past four years in Love and Rockets, into a long-form masterpiece for the first time."
Quite so, for this truly is a masterpiece. Just for the record, this collects material from LOVE AND ROCKETS NEW STORIES VOLS 7 & 8 and LOVE AND ROCKETS VOL IV #1 – #5.
If, like me, you've kept an affection for Maggie, Hopey and all the other Locas over years, despite my attention inevitably wandering due to the ever-burgeoning output of other wonderful comics out there and also the at times substantial intervals between new LnR material, I think you'll find this collection both the perfect retrospective and reacquaintance with our chums, young and old versions alike.
Like in THE LOVE BUNGLERS, I found the flashback sequences immensely poignant, with the sheer boundless, buzzing chaotic energy of our characters, especially Maggie and Hopey, (well definitely Hopey!) as kids in stark contrast to the world weary middle-aged versions, sharing their hard won wisdom and reflecting upon how the hell they all ended up where they are. There's one touching moment in particular that almost had me reaching for my hankie…
Set against the backdrop of a reunion road trip that is just as disastrously action-packed as any of their early escapades, I found myself chuckling at my – and their – subsequent wry realisation that perhaps they hadn't changed that much after all.
Jaime is indeed, like brother Gilbert (MARBLE SEASON / BUMPERHEAD / HIGH SOFT LISP / LOVERBOYS / THE TROUBLEMAKERS), seemingly only getting better and better as a writer. Artistically, well, you know what you're going to get, and that is fine. As good an illustrator as Jaime is, especially in capturing his characters' emotions (and in young Hopey's case histrionics), it is his storytelling that keeps us coming back time after time. And we will keep doing so as long as he keeps writing! Pretty sure there's some serious mileage to be had in pensioner Locas!
JR
Buy Love & Rockets: Is This How You See Me? h/c and read the Page 45 review here
Strangers In Paradise XXV vol 2: Hide And Seek s/c (£14-50, Abstract Studios) by Terry Moore.
"Who
controls the past controls the future.
"Who controls the present controls the past."
– George Orwell
Who controls the future here remains to be seen.
Previously in STRANGERS IN PARADISE (the Omnibus review is ever so slightly expansive):
Katchoo and Francine have endured the vicious repercussions of Katchoo's tarnished past – which have come back to curtail their present and so threaten their future – successfully enough against all adversarial odds, to settle down and carve themselves a blissful, tranquil family life with their two daughters in a really rather swish villa strategically sequestered in the middle of nowhere.
It is idyllic!
Then STRANGERS IN PARADISE XXV vol 1 kicks off.
To ensure her family's safety, Katchoo finds herself racing frantically across the globe from the Isle of Skye in Scotland to the remotest jungles of Colombia. Unfortunately, she's left Francine and the girls terrifyingly vulnerable in the supposed sanctuary of their home.
All the weathers are here, both hot and humid and freezing with snow which Moore draws so eye-blindingly well, plus the sort of cliff-leaping, all-out action that you'd expect from Raiders Of The Lost Ark.
By now, however, long-term Terry Moore fans will have noticed his various storylines merging, incorporating characters and plot points from previous series MOTOR GIRL, RACHEL RISING and ECHO.
They're rekindled here to kick off the next series – imminently and ominously – in FIVE YEARS #1 and FIVE YEARS #2 which will automatically be distributed to those signed up at Page 45 for SiP.
For, as I say, who controls the future remains to be seen.
We only have five years left.
Five years left until what…?
SLH
Buy Strangers In Paradise XXV vol 2: Hide And Seek s/c and read the Page 45 review here
Jesusfreak h/c (£15-99, Image) by Joe Casey & Benjamin Marra…
"You…
have my gratitude, beast thing."
"Is that so? Have you suddenly experienced some profound new revelation?"
"Maybe I have. Now… look in my eyes. Tell me… what do you see?"
THWAK
"Ghuh! Well played. Perhaps you are the blessed one."
If you ever found yourself in a troubling situation pondering the classic moral imperative "What would Jesus do?" it's probably fair to say, it would not be what Joe Casey and Benjamin Marra have the mild-mannered, cheek-turning, betrayal-forgiving, enemy-loving peacenik proto-hippy doing.
No.
For their righteous Jesus is more son of a gun than Son of God. I mean, he's that as well, kind of, it's just he's more of a New Testament sword of justice kinda guy. With added kung fu. And he really does have a sword and he's not afraid to use it.
Because… well why not? He's the ass-kicking, face-punching, head-lopping action hero saviour the masses need. Apparently!
Here is the sermon from the publishers to tell you about the righteous damnation this bad-ass bible basher is going to rain down on your heads if you don't all start behaving yourself. But first, can I get a hallelujah? No? How about a punch in the face then? Done!
"The year is 26 C.E. A young Nazarean carpenter is having some trouble adjusting to the violent world around him-and finding his place within it. He knows he's different, but he doesn't know why. Not yet, anyway. A bloody, two-fisted tale of historical heroic fiction brought to you by Joe SEX, BUTCHER BAKER / THE RIGHTEOUS MAKER / MCMLXXV Casey and Benjamin NIGHT BUSINESS / TERROR ASSAULTER / O.M.W.O.T. Marra."
Fans of classic hack slash material such as Roy Thomas' SAVAGE SWORD OF CONAN (and by the way, Jason Aaron's new CONAN and Gerry Dugan's SAVAGE SWORD OF CONAN are both really excellent, capturing the flavour of the original material perfectly) and the '70s era THE HANDS OF SHANG CHAI: MASTER OF KUNG FU will absolutely love this. It's as pulpy as a battered bad guy's head after some serious beat down action.
It does try to do a little more than viscerally entertain, through senselessly sensual violence, sure, hey this is Jesus after all, but I won't spoil where they take the character because Jesus's voyage of self-discover here is half the farcical fun.
Art-wise, Casey has picked a perfect foil in the form of Marra, who's scathing, satirical ONE MAN WAR ON TERROR material figuratively and literally takes no prisoners itself, and here once more he unleashes his trademark relentless graphic brutality upon our sensibilities almost daring us to blaspheme against his character's credo of cruel justice. Tough love baby, that's what the Jesusfreak is dispensing. Take it or leave it.

On that point, I can't see many committed Christians enjoying this, but if you've half a sense of humour and enjoy seeing the desecration of one of the most pious dudes ever to walk the earth purely for your reading pleasure, dispensing proverbial psalms of pain, then this is sequential art soul food just for you.
And errr… me… Amen.
JR
Buy Jesusfreak h/c and read the Page 45 review here
We've Found More Copies!
Guardians Of The Louvre h/c (UK Edition) (£17-99, Fanfare / Ponent Mon) by Jiro Taniguchi.
"Just look at those lines!"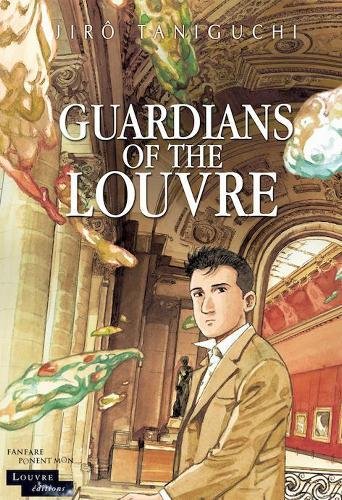 This gasp is elicited by the sight of the glass Pyramid with its astonishing steel struts which rises within the vast courtyard of the Louvre, not so much taking up space but informing it, redefining it, refining it.
It made me laugh, for my eyes had been wide in similar, awe-struck astonishment for each of the nine previous pages, wondering how Taniguchi could make so much even of railings, diverging with precision from a vanishing point on the Parisian skyline without looking at all clinical but tactile and pocked with pits.
We've been admiring Taniguchi's elegant lines every since the original publication of THE WALKING MAN then made A DISTANT NEIGHBOURHOOD a Page 45 Comicbook Of The Month, but this is the first time the English-speaking world has been blessed with a fully distributed commercial graphic novel of his in full colour. And oh, the colour!
You could spend hours looking at the opening page alone, mesmerised not just by Jiro's panorama, but what he's done with the folds of the faun-coloured jacket and the drains of the metal slats beneath the protagonist's feet and the shadow those legs and feet cast over that walkway.
When our lone Japanese artist visits Auvers-sur-Oise for a day's pilgrimage to the final resting place of Vincent Van Gogh we will see what Taniguchi can do with vast, verdant fields transected by dry, sunlit tracks, then big bushy trees, clipped lawns and cornfields. But it is the architecture that amazes the most both there and while wandering both inside and outside the Louvre in Paris.
There are so many panels of delicate detail gazing up or looking down over the rooftops which capture the semi-relief I adore so much in window ledges and eves, casting just so much shadow over the creamy stone. Window boxes boast a dappling of foliage and trees dangle leaves over walls along the banks of the Seine.
Paris is a city designed so that wherever you are you can see over, under and through it ever since Haussmann raised and rebuilt it in the mid-19th Century, giving any pedestrian a very real sense of where they are, wherever they are. Taniguchi so evidently relishes that sense of space and conveys it so successfully one feels as if one's wondering a couple of steps behind him, beside him, luxuriating in the early summer light.
Once the cultural traveller's inside the museum, that space is no less in evidence. The Baroque majesty of some of the grand arches and Corinthian columns towering above white stone steps and organic, wrought iron banisters is evoked with perfectly chosen perspective. So many galleries are drawn in meticulous detail including each individual painting housed within, and without his fellow tourists to block our view, it is enough to make the heart and soul soar. How has Taniguchi contrived that we – and our protagonist – might see it so?
Ah.
Well, it's all a little fanciful, to say the least, but that made me smile too.
A Japanese artist arrives in Paris following an international comics festival in Barcelona – since he'd come all that way. But the stress of the festival combined with an inability to get over the initial jetlag has played havoc with his immune system and for a whole day he lies shivering, bed-ridden.
"I come to feel somehow light-headed and strange. Suddenly alarming thoughts go through my head, like maybe I'll just die here like this."
He awakes the next morning dripping in sweat but, determined to make the most of even a minor recovery, he saunters out onto the streets. One omelette later and invigorated by caffeine, the man makes his way down narrow streets and broad boulevards to spend the first of three days in the Louvre. It is, of course, pullulating with fellow sight-seers which make him dizzy so, once down the escalators, he decides to split off from the hordes and heads towards the antiquities of Ancient Greece and Rome – the Denon Wing on the lower ground floor – only to suffer a relapse. His head swimming, he falls to the floor, the world around him exploding with colour as the statues dissolve into amorphous, floating shapes…
When he comes to, the museum is deserted save for a woman dressed in the palest of pinks, her hair tied back into an elaborate bundle of buns. She will be his guide through the Louvre, as the artist experiences some extraordinary visions and even more remarkable encounters along with an unexpected moment of personal closure.
Everything else redacted!
Yes, this is an English-language graphic novel. I just needed to glean some images from France!
SLH
Buy Guardians Of The Louvre h/c (UK Edition) and read the Page 45 review here
Arrived, Online & Ready To Buy!
New reviews to follow, but if they're new formats of previous books, reviews may already be up; others will retain their Diamond previews information we receive displayed as 'Publisher Blurb'.
Leaving Richard's Valley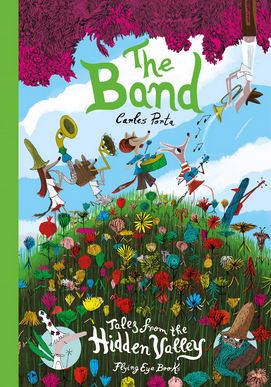 (£22-50, Drawn & Quarterly) by Michael DeForge
Clyde Fans h/c Box Set Slipcase Edition (£42-00, Drawn & Quarterly) by Seth
Men At Sea s/c (£22-99, Dead Reckoning) by Riff Reb's
Strangers In Paradise XXV Omnibus h/c (£35-99, Abstract Studios) by Terry Moore
Strangers In Paradise XXV Omnibus s/c (£26-99, Abstract Studios) by Terry Moore
Tales From The Hidden Valley vol 3: The Band (£12-99, Flying Eye) by Carles Porta
When I Arrived At The Castle (£13-99, Koyama Press) by Emily Carroll
Catwoman vol 1: Copycats s/c (Rebirth) (£14-99, DC) by Joelle Jones & Joelle Jones, Fernando Blanco
Nightwing vol 7: The Bleeding Edge s/c (£16-99, DC) by Benjamin Percy & various
Planet Hulk (UK Edition) s/c (£24-99, Marvel) by Greg Pak & Carlo Pagulayan, Aaron Lopresti, others
Star Wars vol 10: Escape (£15-99, Marvel) by Kieron Gillen & Andrea Broccardo, Angel Unzueta
Memoirs Of A Book Thief h/c (£14-99, Self Made Hero) by A. Tota & P. Van Hove
Attack On Titan vol 27 (£9-99, Kodansha) by Hajime Isayama
Candy Color Paradox vol 1 (£8-99, Sublime) by Isaku Natsume
Goblin Slayer vol 1 (£11-99, Kodansha) by Kumo Kagyu & Kousuke Kurose
Goblin Slayer vol 2 (£11-99, Kodansha) by Kumo Kagyu & Kousuke Kurose